The Orders Page in your Shippo dashboard houses all of your orders. This is the default page you see when you first log in to your Shippo account.
You can access it by clicking on Orders on the left navigation panel.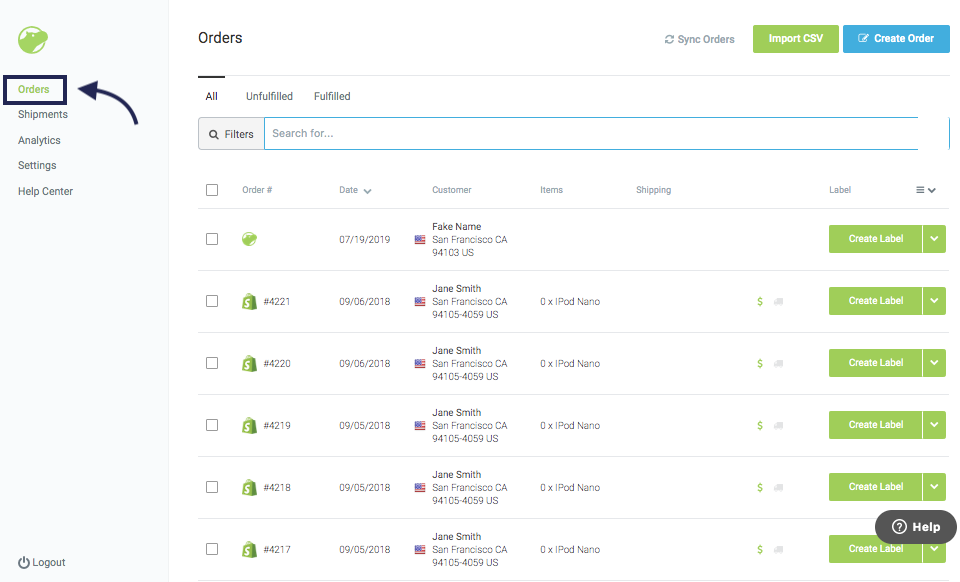 Functions of the Orders Page
Importing Orders
Creating Orders
Filtering Orders
Hiding Orders
Printing Packing Slips
Creating an Individual Label
Creating Multiple Labels
Printing Labels
Send Email Notifications
Refund Labels
You must first start with an "order" to create a shipping label. An order can come to be listed on the Orders Page in one of three ways:
Imported from your

e-commerce platform(s) — Shippo E-commerce Store Integrations
Imported through our CSV upload functionality — How to Upload a CSV File
Created by manually typing in the sender and recipient address details
Note: If you have not yet created or imported orders, you can view this video to learn how to create your first label with Shippo: How To Create Your First Label
Importing Orders
Import your orders to Shippo using an E-commerce Store connection or by uploading a CSV file of orders

E-commerce Stores
Click the Sync Orders button on the top right of your Orders Page to import orders from your e-commerce platforms manually. Depending on the platform, orders will sync automatically in real-time or once per hour. Shippo typically syncs with e-commerce stores once per hour while some integrations sync in real-time. See Shippo E-commerce Store Integrations.
Note: For Shopify connections, the Sync Orders button will also sync any new or modified Shopify addresses/locations to Shippo. If you make an address/location change on Shopify, please wait five minutes, and then click Sync Orders in Shippo to have that address imported. See Shopify Locations in Shippo.
CSV uploads
Click the Import CSV button to import your orders from a CSV file into Shippo. See How to upload a CSV file and How to Shippo: Importing orders via CSV file
Creating Orders
You can create orders individually if you do not have an E-commerce Store connection and do not wish to upload a CSV file. This is a great solution for a one-time label that you need to create.
Click the Create Order button at the top right of the page to begin. We call these "manual" orders.
Manual orders are marked by a green hippo icon in the Orders list
Manual orders will not have an "order number"
Manual orders will not have "orders items", and the Packing Slip will not include item details

Filtering Orders
You can filter the orders you want to see on the Orders Page.
Filtering by Fulfillment
You can filter by All orders, Fulfilled orders, and Unfulfilled(Pending) orders by clicking on those links at the top of the list. Additional filtering is available by clicking the Filters button next to the Search bar.

Additional Filters
Click on the Filters button next to the Search bar to see additional filter options. Click on the name of the filter you wish to use.
Date Filter
Click on Date, enter the Start Date and End Date, and click Add filter.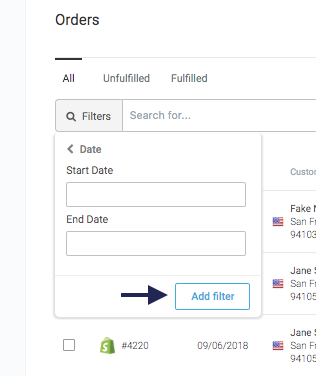 Destination Filter
Click on Destination, click the drop-down arrow to select Domestic or International, and click Add filter. Domestic or International are determined by the recipient address on the order.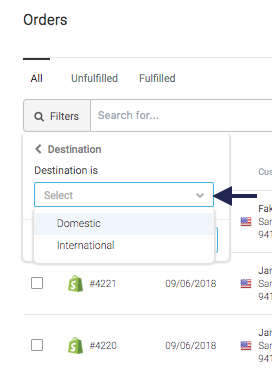 Weight Filter
Click on Weight, enter the Minimum Weight and Maximum Weight range, and the weight Measurement (oz., lbs., etc.). Click the Add filter button to save.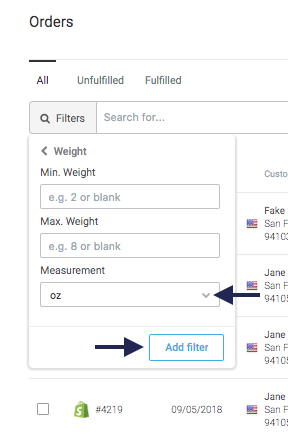 Shops Filter
Click on Shop, click on the drop-down arrow to select, and click the Add filter button. You will only see options listed here if you have a store connected or have imported using a CSV. Choose "Shippo" if you want to only see orders you created manually.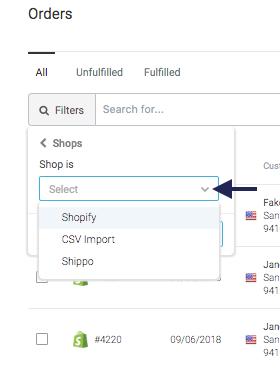 Shipping Method Filter
Click on Shipping Method, click on the drop-down arrow, check the box for your selection, and click the Add filter button. Shipping Methods will be listed here if your customer selected a specific shipping method in your shopping cart. You may purchase any carrier and service level when you create your label.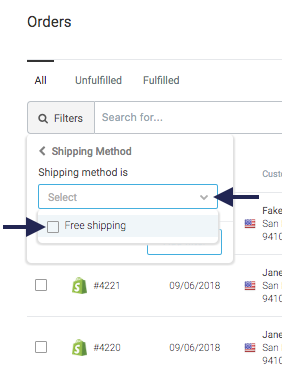 Clear Filters
Clear your filters by clicking on the "x" next to each individual filter selection.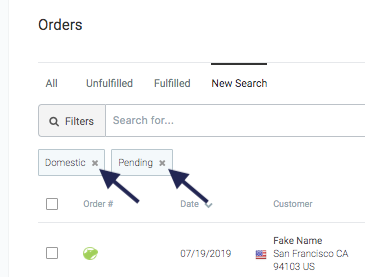 Saving Filters
You can save your preferred filter options so you do not need to recreate the filter every time you visit Shippo.

After filtering:
Click on the Save link at the right of the Search bar
Name the filter
Click Save
The saved Filter is now listed along top of the Orders Page with the All, Fulfilled, and Unfulfilled options.
Delete Saved Filters
To remove a saved filter:
Click on the drop-down arrow next to your saved filter
Click Delete
Click Remove in the pop-up confirmation
Hiding Orders
From the Orders Page, click the drop-down arrow next to the Create Label or Fulfilled button and select Hide Order.

For more details on hiding multiple orders and restoring hidden orders, see How to Hide Orders in Shippo.
Printing Packing Slips
You can print a single Packing Slip or multiple Packing Slips on the Orders Page. For more details on Packing Slips, see Packing Slips in Shippo.