Packing Slips in Shippo can be printed in PDF, PNG, or ZPL formats to best fit your printing needs and are available for any order fulfilled in Shippo to be sent along with your packages.
_____________________________________________________________________________
Packing Slip Settings
Your Packing Slip preferences can be edited on the Label & Packing Slips Page. From here you can set your packing slip size, add a store policy, and remove pricing!
Note: Printing in the ZPL format is specific to Zebra printers. If you do not have a printer that is compatible with this format, we recommend picking one of the other file types for your Packing Slips.
Adding Notes and Hiding Prices on Packing Slips
To add a store policy to your packing slip, or to hide prices on your packing slip, you'll need to navigate to your Labels & Packing Slips page. To do this, just click Settings > Labels & Packing Slips.
Once on this page, you'll see all options available: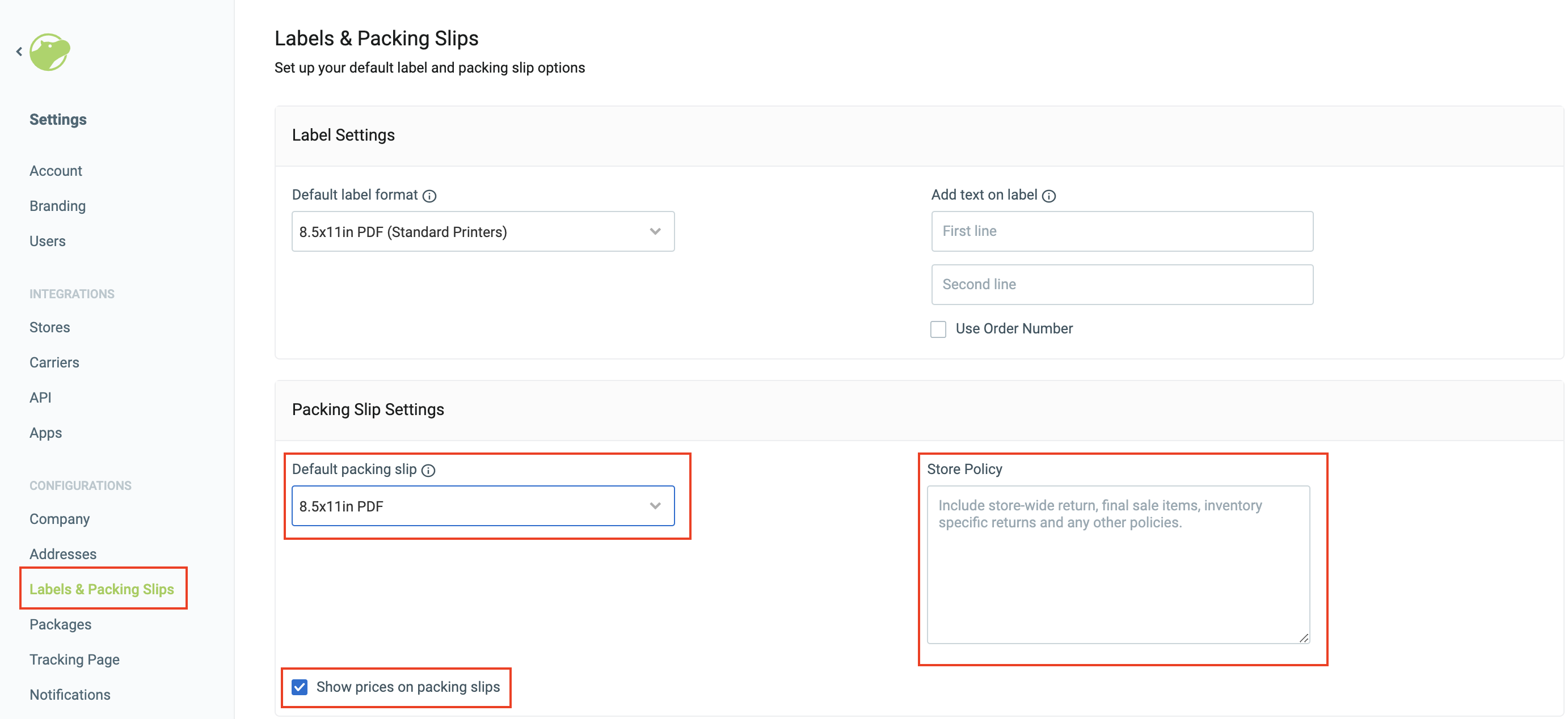 Unchecking the "Show prices on packing slips" checkbox will allow you to hide those prices. This will be useful for the busy Holiday season when a lot of you are shipping gifts!
Adding a store policy will allow you to communicate with your customers a return policy or any additional important information you'd like them to know.
Note: Making any changes on the Labels & Packing Slips page will update all labels and packing slips generated after the changes are made. This is only available at a global level and there is currently not a way to make changes to 1 specific packing slip (this will be coming in the future!).
Once a change is made, for example, if you elected to remove pricing and want to add it back, you will need to come back to your Labels & Packing Slips page and make the necessary changes.
Printing One Packing Slip
Click on the drop-down arrow next to the Fulfilled or Create Label button
Click on Download Packing Slip

Printing Multiple Packing Slips
Click on the checkbox to the left of each order
Click on the arrow next to the Create label for selected orders button at the bottom right
Click on Download packing slips for selected orders

What is included in a Packing Slip?
Packing Slips will feature the name and address of the Sender and Recipient, any notes you added, as well as information about the order (item name, count, weight, etc).
Note: Orders with many items may result in a multi-page Packing Slip.
Branded Packing Slips
Pro and Premier Plan customers can add their Company's branding to customize the Packing Slip in Shippo.
Packing Slip Examples
4x6 PDF, PNG, and ZPL Formats:
These packing slips will be printed in the 4x6 format and should be selected if you are printing on a thermal label printer.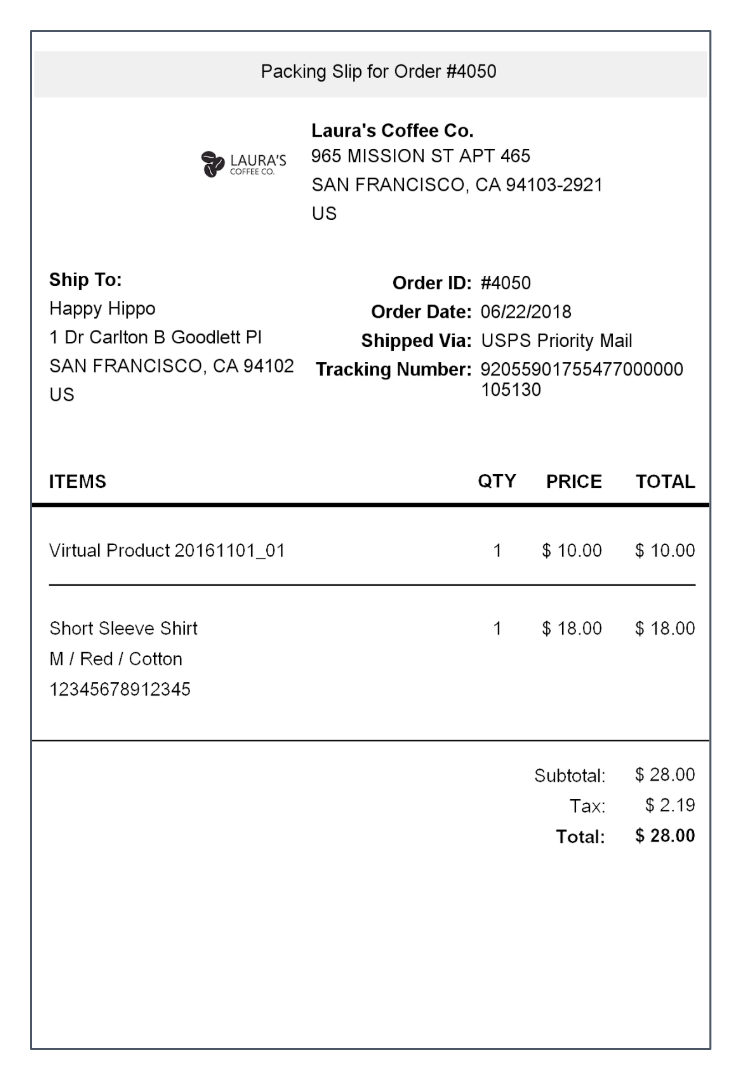 4x8 PDF, PNG, and ZPL Formats: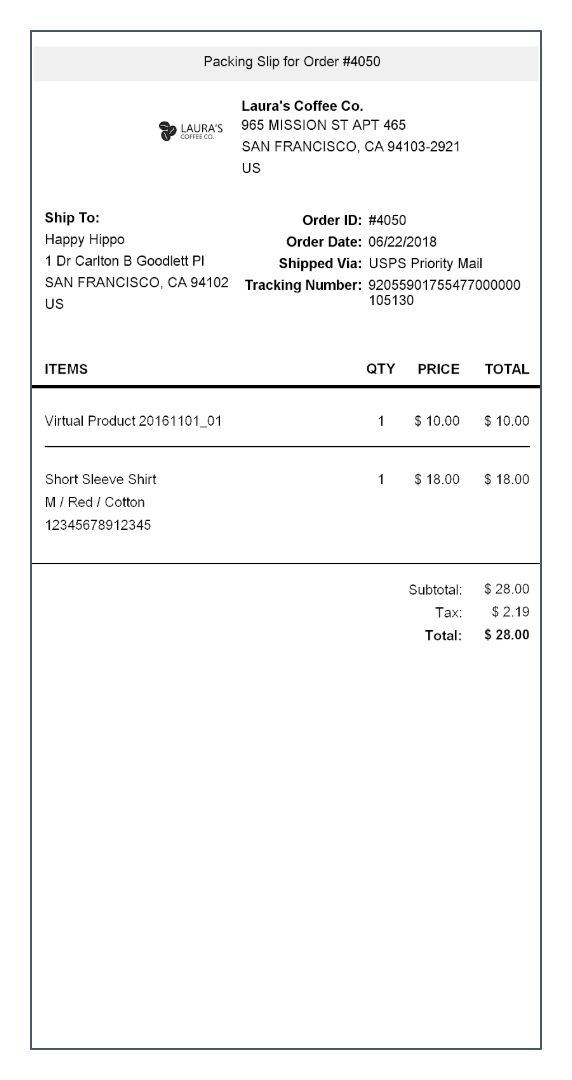 8.5x11 PDF Format:
This packing slip will print on a full page of paper and is a common selection for customers who use standard inkjet printers.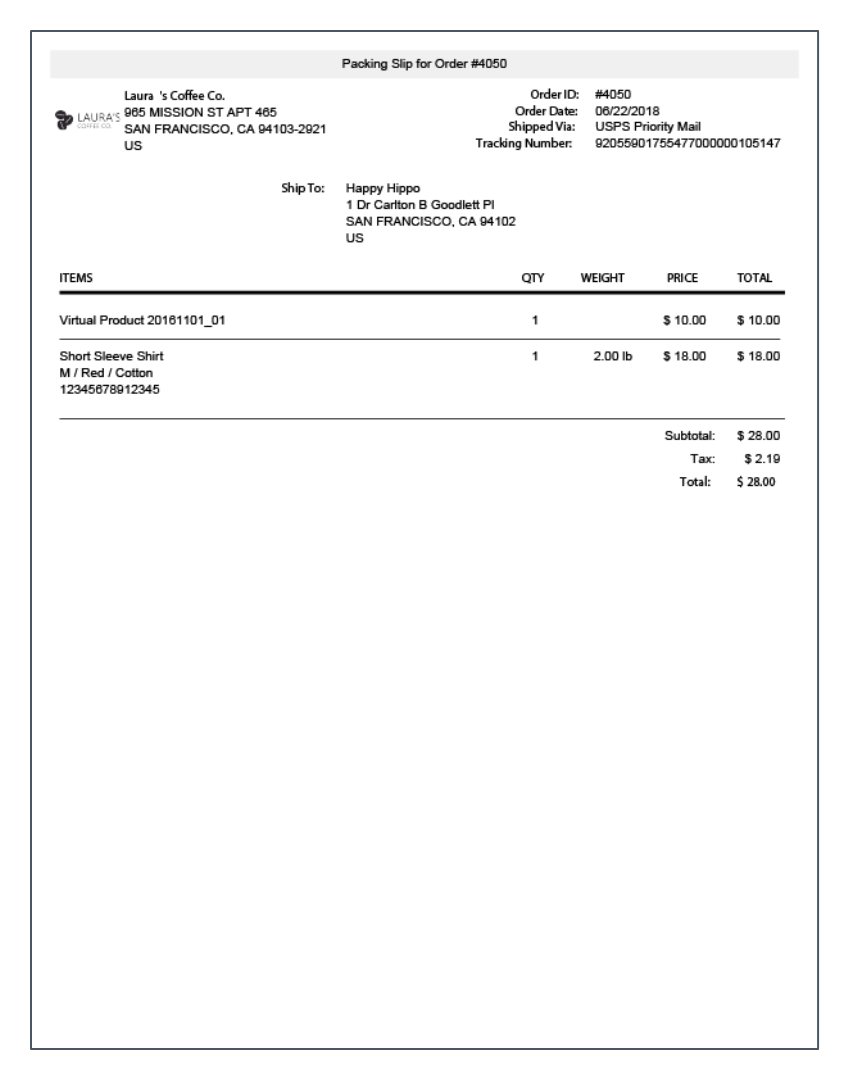 Packing Slip/Label Combo Format:
These packing slips will be printed on 8.5x11 in paper and will include the label and packing slip on one page.