A manifest is a one-page document with a single barcode that the carrier can scan to accept all packages into transit, all at the same time, without the need to scan them one-by-one.
Manifests speed up the package acceptance process. Most carriers will not accept a large number of packages at their location or for a scheduled pickup without a manifest. USPS manifests are called SCAN Forms.
There are several rules for manifests that you should keep in mind:
How to Create a Manifest or SCAN Form
You might notice a new interface for USPS manifests in-app. Not to worry!
While the look has changed, the input and information needed for manifests remains the same.
After clicking "Create New Manifest" on your orders page, you'll be taken to the new USPS page.

Here's a look at the "Create New Manifest" page.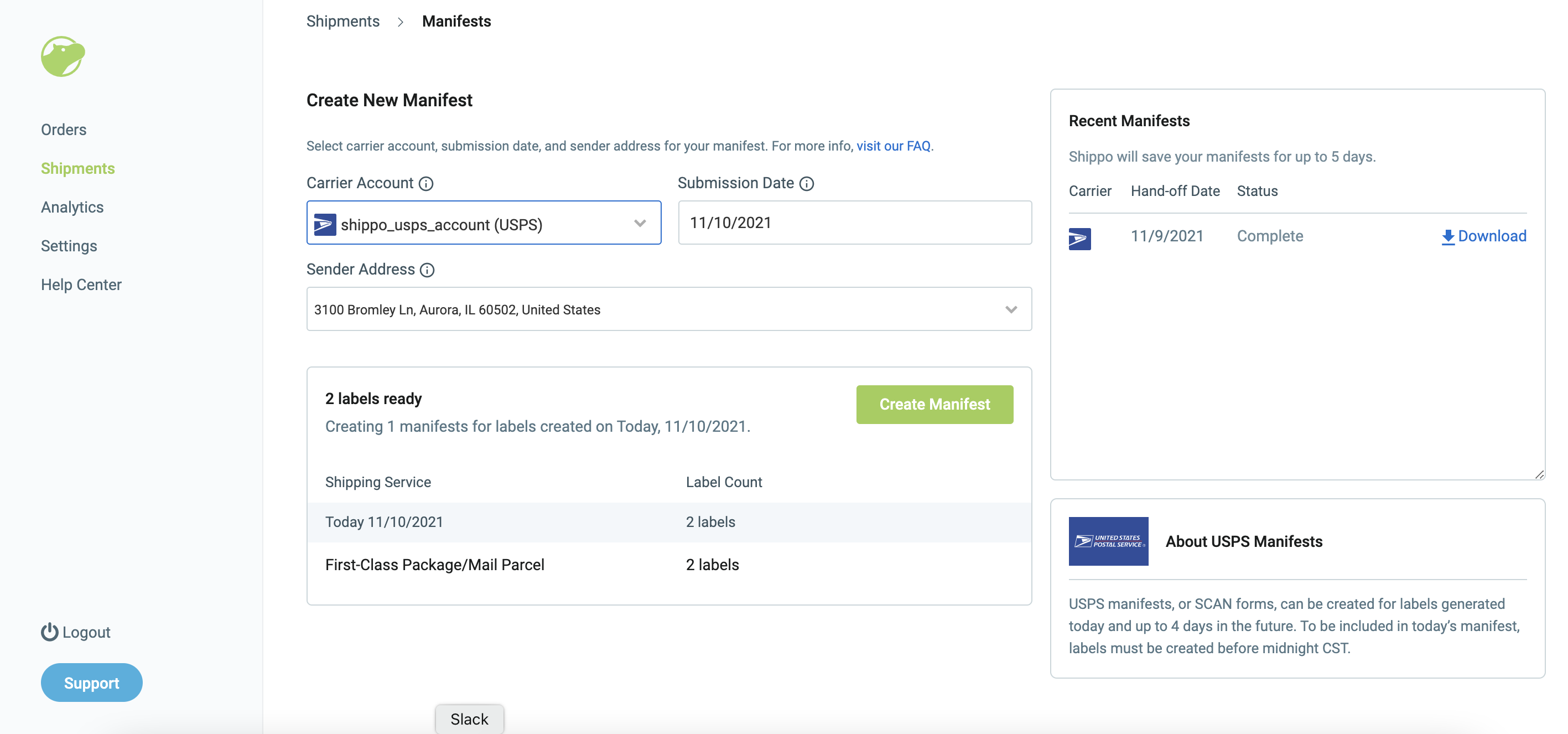 Click the green "Create Manifest" button to create a manifest for labels that have already been created.
If you haven't yet created labels, you'll see this page before continuing.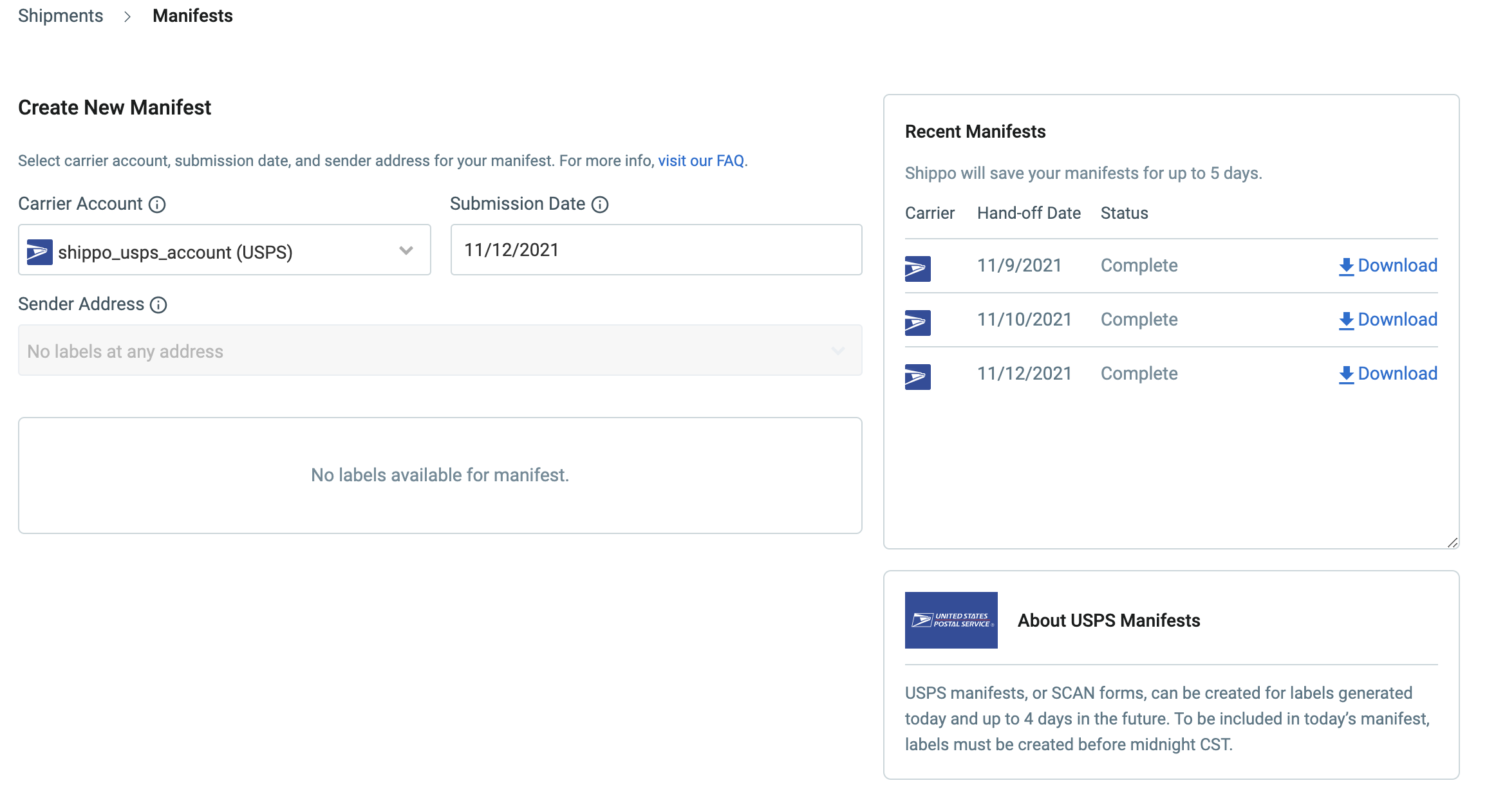 The manifests themselves look the same, but the process is a bit easier to complete!
Example Manifest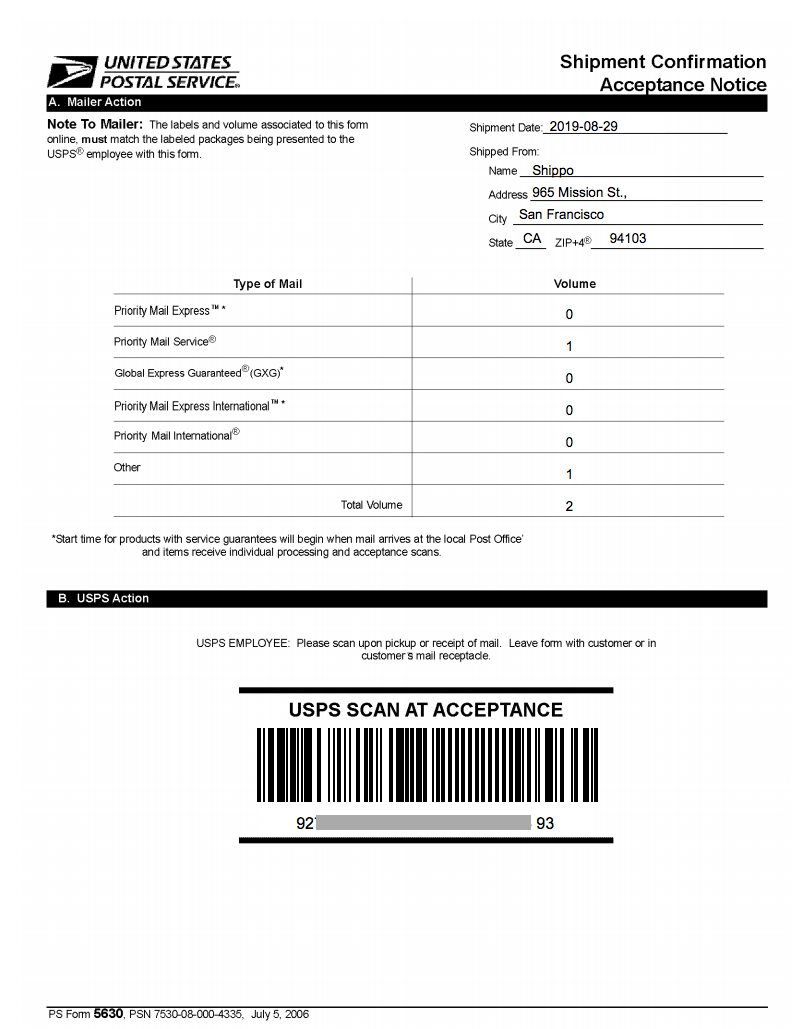 Manifest Tips
You must generate a manifest on the same calendar date that you create the labels
This is standard for most carriers. After you create your labels for the day, generate your manifest on the Shipments Page before the end of the day.
The carrier will not allow you to generate a manifest if you wait until the next day, and Shippo won't be able to override that carrier requirement.
The "Shipping From" address must match the sender address used for the labels
The Manifest screen shows the "Shipping From" address at the top right of the page. This address must match up with the "Sender Address" you used when you created your label. It may be different than the Return Address that you see printed on the label.
The "Shipping From" address will be pre-filled with the default Sender Address that you have on the Addresses Page. If you chose a different Sender Address when you created your label, be sure to change the "Shipping From" address before you generate the manifest or you will see an error.


Manifests can be printed under the "Submission Date" that matches the "Label Date"
The "Submission Date" field noted below will be pre-filled with the current date because you can only generate a manifest on the current date. But, once generated, the manifest will only be listed under "Manifest History" under the Submission Date that matches the date the on the label.
In this example, the date on the label is 8/29/19, so we need to enter 8/29/19 in the Submission Date field to see the manifest link. The date next to the manifest link will be the date the manifest was generated. Our example here happens to show that the manifest was created on the same date as the label date.

Why are some labels missing in my Manifest?
USPS uses Central time when calculating manifest/scanform cutoffs. Labels created after 00:00 (midnight) CST time, will be considered for the next day's manifest/scanform. If you are missing labels for your manifest, please change the submission date, to the next calendar day.
00:00 CST time is equivalent to 10:00 PM PST, 11:00 PM MT, & 1:00 AM EST. Keep your timezone in mind when creating the manifests, or SCAN forms. For example, if a label is created at 10:30 PM PST, on March 1, the submission date for the manifest should be March 2.
Labels included in a Manifest that received an error cannot be manifested again
If you run into an error generating a manifest or SCAN Form, our Support Team is happy to help you troubleshoot to find out what caused the error. Unfortunately, once a label is linked to a failed manifest with an error, we won't be able to get those labels manifested for you. Each label will need to be scanned by the carrier individually.
An example manifest error looks like this: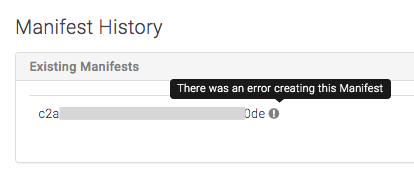 USPS may generate more than one Manifest
USPS will often separate different types of shipments on separate SCAN Forms, so you may end up with several links to download under Manifest History. This is normal and expected, so just be sure to print each one.
SCAN Forms may be separated by Priority Mail cubic rates only, Priority Mail rates (all other types), First Class Package, etc.
Can I create more than one Manifest a day?
You can create multiple Manifests or SCAN Forms each day when needed.
If you were to create a large batch of labels in the morning and then immediately generate your manifest, all of those labels will be included on that manifest.
If you were to create another large batch of labels later in that same day, you still can, and should, create another manifest. The second manifest will only include the new group of labels, not the labels that were already included on the manifest that morning.
Carrier-specific Processes
Shippo supports manifests for USPS, Canada Post, Purolator, Australia Post, Newgistics, Asendia US, and DHL eCommerce.
Canada Post - Only contract customers can create manifests (if you do not have a contract ID that you can add to Shippo, you will get an error when trying to create a manifest). Contract customers that ship more than 50 shipments a day will need to create manifests to transmit the shipments for billing for a given day. Contract customers that ship less than 50 daily can usually skip the manifest requirement, but are encouraged to verify with Canada Post. If a contract customer doesn't close out a shipment day by creating a manifest, Canada Post may bill for & transmit the shipments on customer's behalf.
Australia Post - All Australia Post customers are required to manifest their daily shipments, no matter how many, in order to avoid a fine. Labels must be manifested within 30 days of the label creation date.
Newgistics - When a manifest request for Newgistics transactions is created, Shippo sends a "Client Manifest Information" (CMI) file to Newgistics. This is all done electronically - unlike other Manifest services (such as the USPS), Newgistics does not return a physical document for the labels to be scanned. Users who provide an ACCURATE manifest to Newgistics receive fewer package exceptions because the manifest provides a reference document for package level information. Manifests must be posted by 11 pm PST the day before a shipment is picked up for processing.
DHL eCommerce - End of day manifests are required by DHL eCommerce. The electronic data will be transmitted to DHL through Shippo, and you will need to print 2 copies of the Driver's Summary Manifest (DSM) that is created. The DSM is a printed document that summarizes all shipments being given to DHL eCommerce for that day, grouped by product. You will need to provide these copies to your DHL driver at pick-up/drop-off.
UPS & FedEx - When you create a UPS or FedEx label in Shippo, there is actually no need to print an End of Day report (as you would in UPS Worldship, for example). This is because all the information in that End of Day report is automatically sent to UPS/FedEx by Shippo each time you create a label with us. If your driver asks you for an End of Day report at pickup, just let them know that the necessary information was already electronically sent to the carrier through your third-party label printing service. Your labels are pre-scanned and drivers are not required to scan each package individually on pickup.
Asendia - When a manifest is requested for Asendia shipments, Shippo sends an electronic file to Asendia. Unlike other Manifest services (such as the USPS), Asendia does not return a physical document for the labels to be scanned.