Whether you haven't set up your online store or you want to send a one-off package, Shippo makes it easy to create one-time labels! In this guide, we will walk you through, from start to finish, how to create and purchase a one-off shipping label in Shippo.
---
Create a Label
To get started creating a label:
Login to your Shippo Account.
Click Create Label in the top right corner of the Orders page
---
Enter Address Information
Next, input the Sender and Recipient Address.
Sender Address:
Your default address will be automatically populated as the Sender Address, but if you're shipping from an address different than your default, you can edit your Sender Address to wherever you are shipping from.
Recipient Address:
Enter the Recipient Address information into the corresponding fields:

Name, Company (if applies), Email, Phone, Country, Street, City, State, and Postal Code.

Select the Address Type.
Then, click Next: Order Details in the top right corner.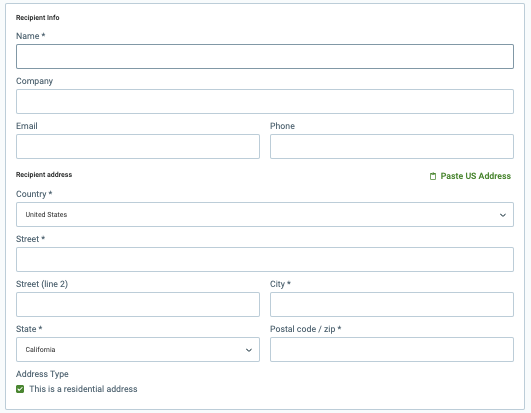 ---
Order Details
The Order Details page is where you will input all of the details of your order so that Shippo can get you the best price for the right label, ensuring your package gets to your recipient for the best possible price. On this page, enter all of the following fields:
Add the Items you are shipping:
Navigate to the Items sections and click Add Item.
Enter your New Item's details, including:

Description
Quantity
Unit Weight
Unit Value
Country of Origin
and the SKU if applicable.

Then, click Add.
Custom Dimensions:
If you are using a non-carrier-provided parcel, enter your package's:
Carrier Provided Parcel:
If you are using a Carrier Provided Parcel from USPS, UPS, CouriersPlease, or Fastway, you can select your parcel to populate the dimensions of your package automatically.
To do so:
Click the dropdown menu that reads "Custom Dimensions".
Select Carrier Provided Parcel.
Then, select the Carrier Provided Parcel you are shipping with from the dropdown menu.
Package Weight:
Because rates are calculated based on package dimensions and weight, we recommend entering the correct weight and dimensions. If the entered weight and dimensions are incorrect, you may receive adjustment charges from the carrier.
Enter the weight of your package into the Weight field and then select the unit of measurement used between:
g (Gram)
kg (Kilogram)
oz (Ounce)
lb (pound)
Then, select:
Create a Return Label
Acknowledge that your shipment contains alcohol.
Acknowledge that your shipment contains Dry Ice.
Once you have entered your package Dimensions, Weight and chosen your Shipping Options, click Save.
---
Purchase your Label
Once you have saved your package's Dimensions, Weight, and Shipping options, you will be given a list of rates from the available carriers organized by price and speed.
Before you purchase your label, you have the option to:
Insure your shipment.
Add signature confirmation.
Once you have finished with all of your shipment details:
Select your desired label from the list.
Then, click Buy in the top right corner.
Review your order and then click Purchase.
Lastly, choose to download either a 4x6 PDF Thermal Label Printer Shipping Label or an 8.5x11 PDF Packing Slip.
And that's it! A big Shippo hooray to you for creating and purchasing your first label!