Now that you've created your account, let's get you set up to start Shipping! In this guide, we'll cover how to update and edit your shipping address and billing information.
Once your account setup has been completed, your Shippo Orders page will initially look something like this: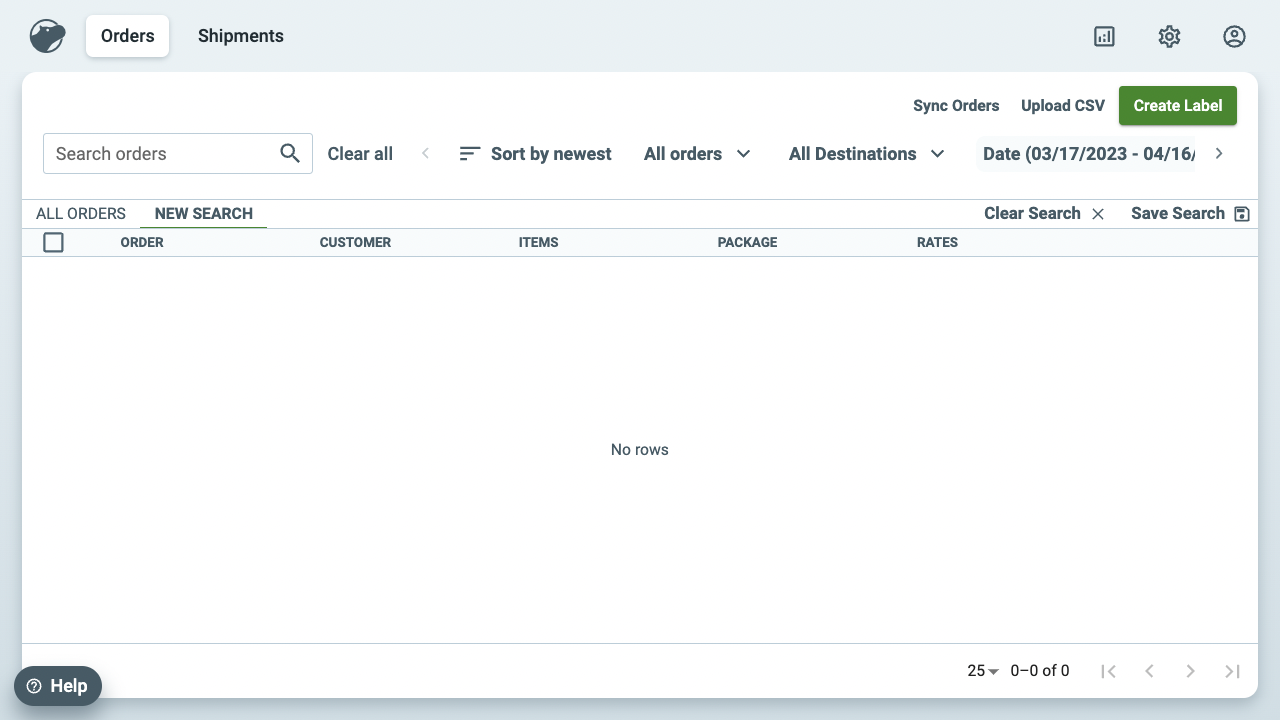 After connecting your e-commerce store (if you're using one), your orders will populate here. If not, all manual orders will populate in this area.
---
Update Your Address
If you haven't already, the next step is to update your business address.
To update your address:
Click the Settings icon.
Select Addresses from the sidebar.
Click New Address to add an address or click Edit on the address you want to edit.
From here, you can also choose to make this address your default Sender and Return Address.
If you would like to have a different default Sender or Return Address, you can add additional addresses from the Address Page.
Tip:

The first address you enter will be your default sender and return address. Be sure to update this default when updating your address!
---
Update Billing Information
Now that you've added your address, you can set up billing! You'll need to update this information before shipping your first package.
To Access and Edit your Billing Information:
Open the Settings Tab from the dashboard.
Click Account.
Then, Click Billing.
From here, you can add and edit your Payment information.
We accept the following payment methods to pay for your purchases in Shippo:
Traditional Credit Cards
Traditional Debit Cards
ACH direct billing (U.S banks only)
Shippo does not accept pre-paid credit cards, pre-paid debit cards, cards that can be reloaded, or gift cards for payments in Shippo.
To connect your bank account to Shippo for ACH direct billing, please reach out to Support.
Note:

You must have a saved method of payment in your Shippo account to be able to make any purchases. If using a card, a $1 preauthorization hold may be placed to verify your information.
After adding your card information, you're good to go! We're ready to use the power of Shippo to get discounts on your first label.
Note:

Shippo runs on a weekly billing cycle for label purchases.

We bill every 7 days or $100 in label purchases – whichever comes first. The default payment method saved on the Billing tab in your Shippo account will be charged for any label purchases made during that seven-day period.