The Addresses Page in your Shippo dashboard is where your shipping addresses are stored. You can add multiple addresses if you are shipping from multiple locations.
You have two types of shipping addresses in Shippo — the Sender Address and the Return Address. By default, the first address entered in Shippo will be used for both the default sender and default return address for your account, but you do have the option to use a different address.
Sender Address
the location from where you'll be shipping your package
used to calculate the correct postage for your shipment — be sure your package is sent from within the same postal code as the sender address to avoid any rate discrepancies
will also be printed on the label if you do not have a default return address
Return Address
the address that will be printed on your label
used for returns if the carrier cannot complete the delivery
In this article, we will show you how to manage your Sender and Return addresses in Shippo!
---
Adding a new address
To access the Addresses Page:
Click the Settings icon.
Then select Addresses on the left navigation panel.
To add a new address:
Click on + New Address at the top right of the screen.
Complete each field for the new address and click the Save

button.
The Company field is optional.
The Phone field is optional in Shippo; however, some carriers require a phone number for domestic shipments.
A phone number is required for all international shipments.
The Name field cannot be left blank. Please enter your Company name in the Name field if you do not wish to use your personal name for shipping.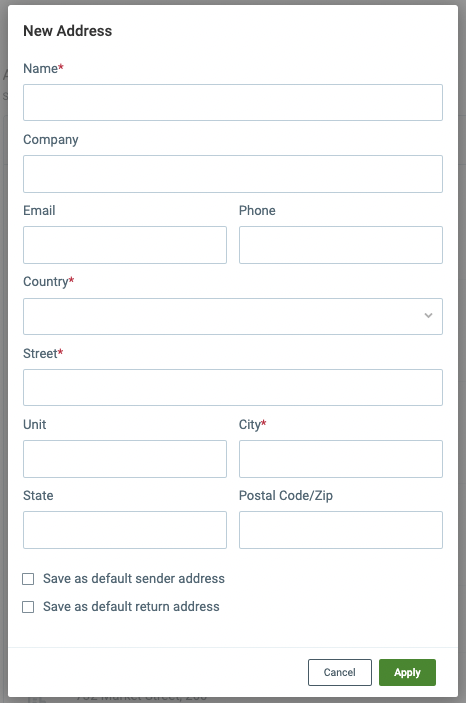 ---
Editing existing addresses
To edit your existing addresses:
Click on the Edit link to the right of an address to select or deselect the address as a default sender or return address.
To set a default address:
In the address box pop-up window, check the box next to Set as default sender or default return address. Click the Save button to save your selection.
Setting a different address as the new default sender or default return address will automatically deselect any prior default.
To delete an Address
Click on the Edit link to the right of the address you wish to delete. Then, click the Delete Address link. Confirm you wish to delete the address in the pop-up window by clicking the Delete button.
You cannot delete an address that is set as the default sender or default return address. Set any other address as the default first. You'll then see the Delete Address option.
---
Shopify Locations
Shopify merchants using Shippo will have their Shopify locations imported to Shippo automatically. Please reference Shopify Locations in Shippo.