Note: Automations are only available for Pro and Premier users. If you're on a Starter plan, and would like to take advantage of this feature, you can begin your free 30-day trial of the Pro plan, directly from your Plan page!


Automation Rules Overview
Based on conditions that you specify, Shippo can automatically make shipping selections on your behalf. After a few simple steps to create your automation rules, all new orders added to Shippo will automatically be processed and adjusted according to preferences you set. Automation rules are a great time saver for tasks that are repeatable and predictable within your fulfillment workflow.
With Shippo's Automation Rules, you may use any combination of an order's:
Item Name
Item SKU
Order Quantity
Order Weight
Shipping Destination: Domestic/ International
Shipping Destination: State/ Province (U.S. & Canada)
Shipping Destination: Zip Code (U.S. & Canada)
To automatically:
Assign Package

Assign Carrier Service Levels
Setting up your Automations
By using an if/then format, you can specify which orders should have actions taken upon them. Creating rules is simple. First specify a set of conditions your orders should meet and then what action or selection should be assigned to that group of orders. In other words, IF an order looks like __, THEN take __ action.
Head over to your Settings page to set-up! Here's how:
To create an Automation Rule:

Select the desired conditions (weight, item name, etc.) for which orders your rule should apply to

Select what action should be taken on those orders (i.e apply x package template)

Give your Automation Rule a name and description

Click Save
Once you hit Save, automation rules will apply to all new orders imported into to Shippo (from either your connected stores or a CSV import).
You can add as many rules as you'd like but please keep in mind that the order of your rules do affect how they apply to your orders.


Managing Automation Rules
Automation Rules run in a specific order to ensure you have total control over how your orders are processed. Rules will run in sequence from top to bottom in the order you specify on the Automations management page (Settings> Automations) So, order matters.
To reorder your Automation Rules, simply drag and drop your rules into the appropriate sequence. Click on any part of the Automation Rule within your Automation Rule list to select and drag an automation rule.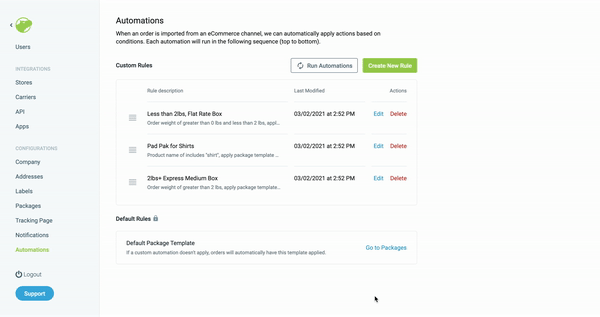 For example, let's say you have two weight based rules, <2 lbs and <5 lbs. If they are in this order:
<5lbs = package B
<2lbs = package A
Then all of the orders that are <2lbs are
also
less than 5lbs, and no orders will be processed by the second rule. Instead, you need to re-order them to be:
<2lbs = package A
<5lbs = package B


Tips To Successfully Manage Automation Rules
More than one automation rule may be applied to an order

(e.g. an order may have a package assigned to it through one rule and a carrier service assigned to it through a different rule)

Only one of the same action can be applied to an order.

The action listed first in the rules automation management list will apply first (e.g. an order meets conditions for two different packages to be applied. The package automation rule listed first on the automations rules list will ultimately be the package assigned to the order)

Automation Rules process in order from top to bottom

and may be reordered by clicking and dragging rules into the desired order



Note: Carrier Service automation is not yet available but is coming soon!
Want to learn more? Check out our Automation Rules FAQs.