USPS now requires shippers to formally declare when their parcel contains a hazardous item. This declaration is required at the time of label purchase. There are no exceptions to this requirement and shippers are expected to ensure they remain in compliance at all times.
In addition, USPS requires a clear separation of HAZMAT and non-HAZMAT items into separate, identifiable packages or mail receptacles. All parcels containing hazardous materials need to be marked as hazardous.
---
Creating a HAZMAT Shipment
At Shippo, we've made this process as simple as possible. When creating your order in the web app, indicate a shipment as containing hazardous materials, and we will ensure your label reflects this.
Web App Users
Web App users can designate that a shipment contains hazardous materials on the Orders page:
Select the Order or create a new one.
Then, from the side panel, navigate to the Package options section.
Select Shipment contains hazardous materials.
Then, click Save.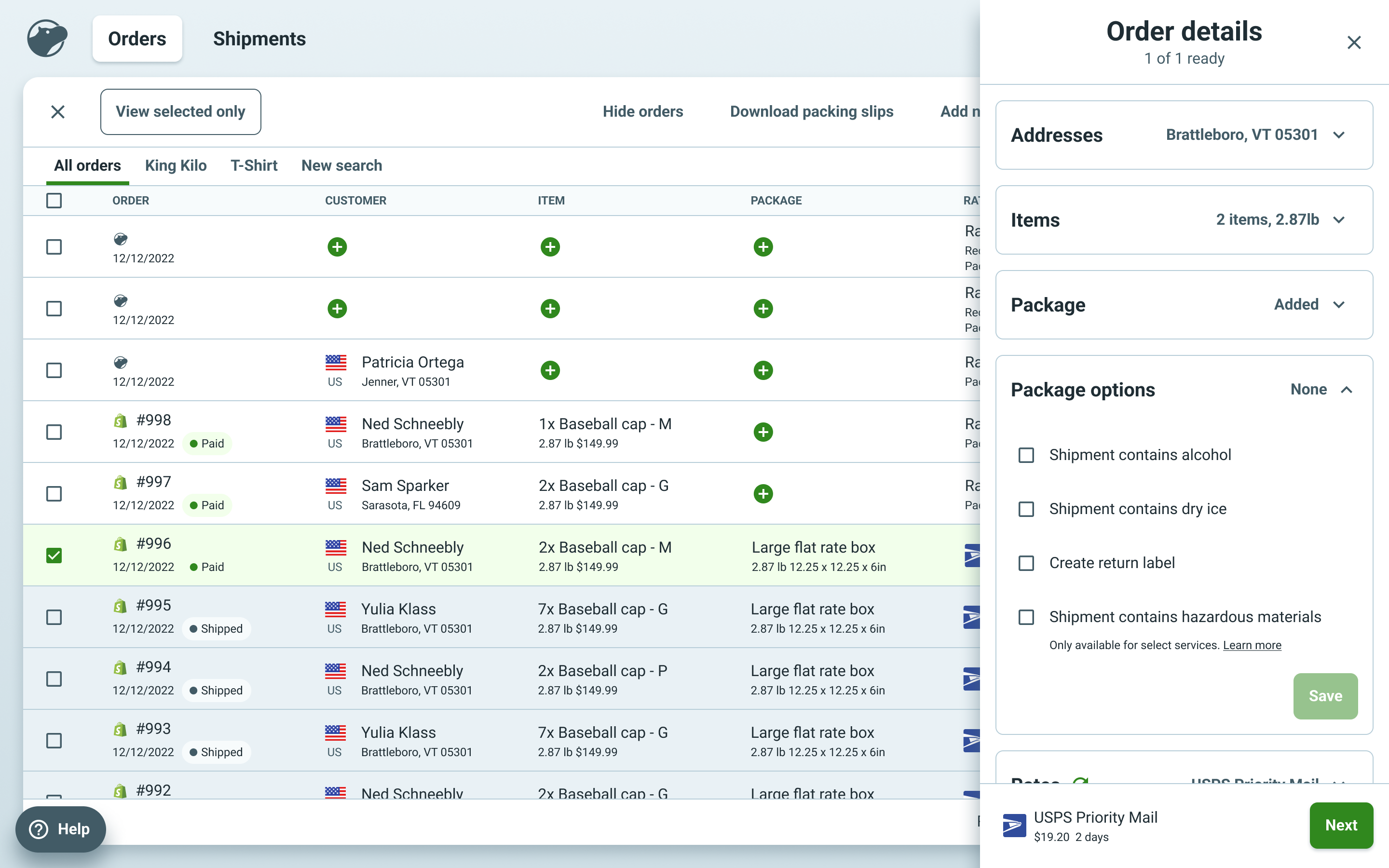 PLEASE NOTE THE FOLLOWING:
We only allow the hazmat selection for USPS (this does not apply to other carriers). When you select this checkbox, we will refresh rates and only show applicable USPS service levels. If a sender's address is not in the US, the option will be disabled.
For domestic hazmat shipments, USPS only offers ground transportation. For example, if you indicate "shipment contains hazardous materials", you will not see rates for Priority Mail or Priority Mail Express.
It is possible to bulk select US orders and indicate "shipment contains hazardous materials", however, if a mix of US/non-US or only non-US orders are selected, this shipping option will be disabled.
API Users
API users can add the "dangerous_goods" shipment extra for label purchases to facilitate shipping hazardous materials. Please refer to our API reference documentation for more information.
What is Considered HAZMAT?
Assigned by the U.S. Department of Transportation (DOT), hazardous materials are any items that are capable of posing an unreasonable risk to health, safety, and property during transportation. For international shipping, these items are often referred to as "dangerous goods".
The most common types of items that fall into this category include:
Articles containing liquid mercury (such as thermometers, barometers, and blood pressure equipment)
Lithium batteries (or any electronics that include lithium batteries such as cell phones and laptops)
Aerosols (such as hairspray, disinfectants, and spray paint)
Fragrances (such as colognes, perfumes, and body sprays)
Dry Ice (which can be used to preserve temperature-sensitive items such as food and medicines)
Paint, Paint Thinners, and Removers (wood stains and adhesives would also fall into this category)
Nail polishes and nail polish removers
Fuel or fuel-powered machinery (this could include gas lanterns, camp stoves, model cars, or even lawn equipment.)
Please note that the list above is not entirely inclusive. In addition to these examples, there are thousands of other items that could fall under the umbrella of HAZMAT. You can use the HAZMAT Search Tool via the USPS website to find which category your item falls under. It is your responsibility as a shipper, to ensure your items are appropriately categorized at all times.
USPS Lithium Battery Exception for Domestic Shipments
For domestic shipments that contain new electronic devices, in original unopened packaging or manufacturer-certified new or refurbished devices, that are not required to, and do not bear a lithium battery marking are exempt from applying service type codes and extra service type codes.

These packages must meet the following criteria:
only button cell batteries installed in equipment; or
no more than 4 lithium cells; or
2 lithium batteries installed in the equipment they operate, (i.e., cell phones, tablets, digital readers, glucose monitors, etc.); or
when there are no more than two mailpieces in a single consignment, per Pub 52, Section 34
Please note that this exemption does not apply to packages being sent internationally.
How Shipping Hazardous Materials with USPS Works
Once you've confirmed that you can ship your product through USPS, refer to Appendix C of Publication 52 to find your Packaging Instructions. This provides you with the information you need on quantity limits, packaging, marking and labeling, and documentation requirements. It is your responsibility as a shipper to ensure packaging instructions and all documentation requirements are followed in accordance with USPS regulations.