Purolator is a leading integrated freight, package and logistics provider, delivering packages to, from and within Canada.
Before connecting your Purolator account to Shippo, you'll need to register on Purolator's Resource Center website and request a Production Key. After registration, you'll need to wait for your Production Key to be activated before you can connect your Purolator account.
---
How to Connect your Purolater
Navigate to Purolator's Resource Center here:

Purolator E-Ship Web Services Registration
Select Corporate Account Holder - I have development resources and want to integrate Web Services into my website or application that won't be re-sold.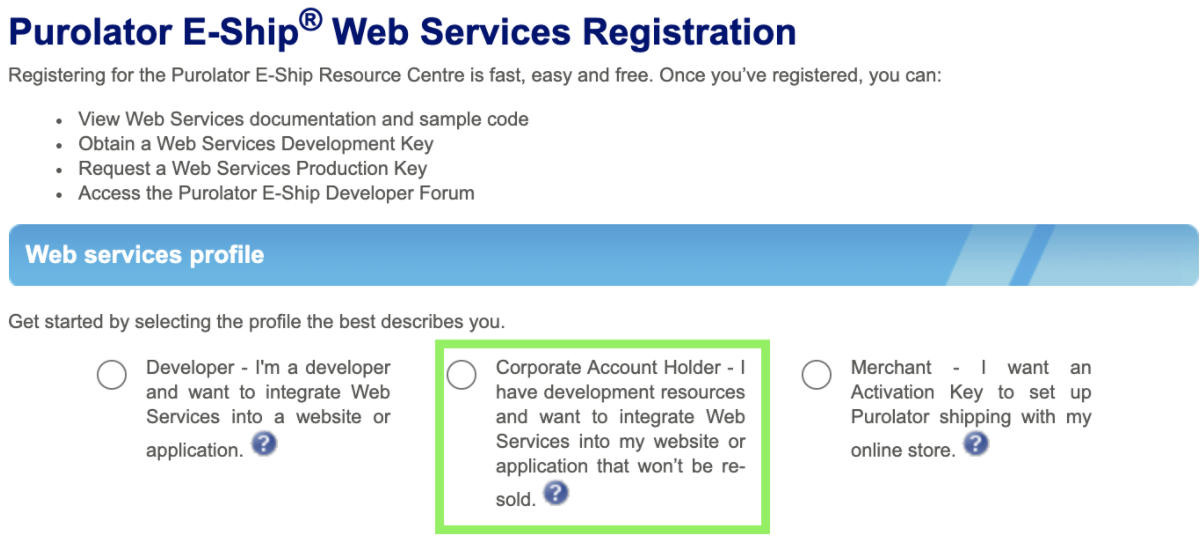 Enter your information then click Submit registration.
Once you're registered, click on Ready for Production and follow the instructions on how to request a Production Key.
Once you've received an email with your Production Key, the next step is to activate the key. You should receive a call from Purolator within the next few days to activate it.
If you do not hear from them you can reach them at 1-800-459-5599. Once activated, it will be ready to use in Shippo.
Please follow the steps to connect your Purolator account to Shippo here: Connect your Own Carrier Account.