A Customs Declaration is the process of declaring the items you ship across international borders. Items shipped across international borders are generally subject to import/export taxes, customs duties, and fees. Certain shipments require documents that can be sent electronically, which is known as Paperless Trade (PLT), all of which is supported in Shippo! 
To make this process as easy as possible, Shippo automatically creates Customs Declarations for orders with international addresses using the item information for the order.
A commercial invoice is a physical document that's created from the Customs Declaration and used to declare the items shipping in the shipment.
Generating your Commercial Invoice
Once you have purchased your international label with declared customs, you can generate the Commercial Invoice by:
Locating the purchased international order from inside the Orders Page. 
Click the More Options ellipsis on the right of the order. 
Select Download Commercial Invoice.
Ways Shippo provides the commercial invoice to users:


Included as part of the actual shipping label.
Included on a separate page(s) as part of the shipping label download.
Sent electronically through a process called Paperless Trade, where a physical copy is not required. Shippo sends the customs declaration information to the carrier electronically.


What to do with the Commercial Invoice?
USPS
For USPS international shipments, users do not need to include a Commercial Invoice with their shipment, so they will not see a button to download one.


All necessary customs information is included with the USPS label automatically:


USPS First Class Package International labels will be a single page with the details of the customs included right on the label.
USPS Priority Mail International labels are varied depending on the shipment's specifications:

The label file may be a single page with the details of the customs included right on the label.
The label file may be two pages; the first is the label, which users should apply to the box as normal, and the second is a copy for their records.
The label file may be three or four pages — the first is the label and should be put on the box, the second (and third) should be included in a pouch on the outside of the package, and the final page is for their records. 
UPS
Please print the entirety of the created file—the label and commercial invoice should be included in that file.
The first page will be the label. The next three identical pages will be the commercial invoice—these need to be attached to the outside of the package inside a clear pouch. The fourth page can be kept for your records.
UPS labels that print "EDI" on the label are eligible for Paperless Trade.
Other Carriers
For FedEx, Canada Post, and DHL Express, the Commercial Invoice is not included with the labels. To include the commercial invoice to your label, you must click Download Invoice to print the Commercial Invoice after downloading your label.
It is best practice to print three copies of the commercial invoice, sign them, and include them in a pouch on the package. DHL Express labels will also include an "Archive Doc," which is sometimes requested by DHL employees but is not required, but we suggest keeping it on hand during drop-off/pick-up in case it's needed.
What are Customs fees?
Custom Fees will be charged to cover the following costs:
Duties and Taxes
Customs agencies use the commodity, quantity, value, country of manufacture, and other factors to determine duties and taxes charges for international shipments.
Customs fees (duties and taxes) are not included in the Shippo rate and will be added on after the package has been sent by the customs agencies of the sending and receiving countries. 


---
Brokerage Fees

The brokerage fee is the fee users pay an entity to clear it through customs for them. The duties and
taxes fees are the amount that the customs borders patrol charges to bring something into the country. 


UPS and DHL Express Shippo master accounts: Shippo does not cover this amount, and this will be part of any customs duties and taxes on our master account.


USPS master account: USPS operates with the in-country post, so there are NO brokerage fees.


Shippers that connect their own carrier account: these fees would be invoiced directly by the carrier. 


Customs Declaration Required and Additional Fields

Required Fields:
Content Type
Required

 describes the items in the shipment. Shippo defaults to

Merchandise.
Documents
Gifts
Sample
Merchandise
Return Merchandise
Humanitarian Donation


Incoterm
Required

 refers to who is responsible for any Duty/Tax/VAT to be collected. Shippo defaults to

DDU (bill recipient).

USPS does not enable DDP for their shipments. All USPS international shipments will be sent DDU.




DDU (bill recipient)
DDP (bill sender)
FCA (Free Carrier) - Free Carrier means that the seller fulfills its obligation to deliver when it has handed over the goods, cleared for export, into the charge of a carrier that has been named by the buyer at the named place or point. The seller is usually not responsible for paying shipping costs. The buyer must clearly specify the precise point of delivery in the contract of sale or carriage.


Signing Person
Required

 is the responsible person providing customs details and is generally the person filling out the declaration. For USPS, this defaults to the Sender Address' name and cannot be changed.  
Additional Fields:
Exporter Reference is for certified exporters only
Importer Reference is for certified importers only
Invoice refers to the merchant's invoice number, which will be printed on the declaration
Non-delivery handling refers to how to treat the package if it cannot be delivered. Shippo defaults to Return.
License is required for certain shipments containing restricted items.
Certificate is required for certain shipments containing restricted items.
EEL/PFC As a general rule, if a merchant exports goods valued at more than $2,500 per Schedule B number to anywhere other than Canada or goods that require an export license, the U.S. Department of Commerce and the U.S. Census Bureau require the merchant to provide Electronic Export Information (EEI) in the form of an Automated Export System Internal Transaction Number (AES/ITN) - commonly referred to as a Proof of Filing Code (PFC) - or an Exemption Exclusion Legend (EEL) code on Customs declaration forms. An AES/ITN is a number provided by the U.S. Census Bureau's Automated Export System (AES) when you electronically file a package's information. An EEL represents an exemption to the requirement to electronically file the package's information with AES, based on certain package details such as value or destination. Fortunately, many cases qualify for an exemption. In these cases, it can help to avoid unnecessary delay if you provide an AES Exemption on your customs declaration in the form of an EEL code. An EEL code takes the form of NOEEI XX XX(a). "NOEEI" code is essentially saying "No, I don't have to provide an EEI code, and here is my reason why". Shippo lists four common NOEEI codes to select from, but there are many others. The codes/fields that Shippo provides are:
EEL codes

NOEEI 30 37(a) - Each type of goods in the shipment (according to Schedule B Export Codes available at http://www.census.gov/foreign-trade/schedules/b ) is valued at $2,500 or less, and the shipment does not require an export license.
NOEEI 30 37(f) - Exemption for export of technology and software (as defined in EAR 15 CFR 772) that does not require an export license. NOTE: EEI is required for mass-market software, which is defined as software that is generally available to the public by being sold at retail selling points, or directly from the software developer or supplier, by various means (i.e., over-the-counter, mail-order, telephone, electronic) and designed for installation by the user without further substantial technical support by the developer or supplier.
NOEEI 30 37(h) - The shipment is an authorized gift parcel or humanitarian donation to Cuba that does not require a BIS export license.
NOEEI 30 36 - A shipment (regardless of value) is going to Canada and does not require an export license.

AES/ITN - Automated Export System or Internal Transaction Number. If selected, the merchant must provide this data in a separate field.
EORI - European Union only. The EORI (Economic Operators Registration and Identification number) is required to properly assess customs duties when moving goods into or out of the European Union (EU). The EORI is a number unique throughout the European Union, assigned by a Customs authority in a Member State to a company or persons for import and export. When registering for Customs purposes in one Member State, a company can obtain a single EORI number which is valid throughout the EU. The company will then use this number in all communications with any EU Customs where a customs identifier is required.
Harmonization Code (HS/HTS) are required fields for Imports to EU countries by air.

For all imports to EU countries by air, a full description of the good, 50 to 100 characters (about 10-15 words), is optimal. Learn more.

Tax ID/VAT are codes that determine how a merchant will be assessed for tax purposes. One seller may have multiple numbers, depending on the countries they are shipping from/to so this may vary by shipment.

Tax ID/EIN is the tax identification number/Employer Identification Number. U.S. Customs Border Protection (CBP) guidelines require that import/export filings include the shipper's Employer Identification Number (EIN). 
VAT stands for Value Added Tax. VAT numbers are widely used rather than EIN in Europe and worldwide.
VOEC is a specific type of VAT and stands for VAT on E-Commerce and is specific to Norway. Merchants participating in Norway's VOEC program must provide their VOEC for all shipments to Norway with a value of less than ~NOK 3000/$350.

Notes is a space where the merchant can provide additional details they feel are necessary for customs processing.
Custom Declaration Requirement Exceptions
There are times when a Customs Declaration isn't required, and the user can opt out of including one in their shipment:
Shipping between certain European Union countries
Shipping from the United States to U.S. Territories with some carriers

i.e., US > Puerto Rico, through USPS
---
Item-level Customs Information
Shippo allows for the following details to be added at the Item level:
Description required 
Quantity required 
Unit Weight required 

Number, unit (g/kg/oz/lb)

Unit Value required 
Country of Origin required 
SKU Code refers to the merchant's own inventory tracking code.
Harmonization Code (HS/HTS) The Harmonized System (HS) code is a 6-digit code managed by the World Customs Organization. Many governments add additional digits to the HS number to further distinguish products in certain categories according to their Harmonized Tariff Schedule (HTS). The HTS code is comprised of the 6-digit HS code + 1 to 4 digits determined by the country of import. For imports to the US, the HTS code is a 10-digit number, and details can be found at https://hts.usitc.gov/current.
ECCN/Ear99 ECCN codes are five-character alpha-numeric designations used on the Commerce Control List (CCL) in the United States to identify dual-use items for export control purposes. An ECCN categorizes items based on the nature of the product, i.e. type of commodity, software, or technology and its respective technical parameters. If the item is in the jurisdiction of the Bureau of Industry and Security (BIS) and is not listed on the CCL, it is designated as Ear99 instead.
---
Paperless Trade with Shippo
A customs declaration is required, without exception, for all International Shipments. Certain shipments require documents that can be sent electronically, which is known as Paperless Trade (PLT). PLT helps your package arrive at its destination more quickly thanks to reduced inspection time at Customs.
Shippo supports Paperless Trade for FedEx, UPS, and DHL Express. When creating a shipment that is eligible for PLT, Shippo will automatically submit the necessary signed Commercial Invoice electronically and will not require you to print out Commercial Invoices for your packages. 
Shippo collects all required information for customs declaration including the Signee for document submission. Please see Customs Declarations for details.
If the submission was

unsuccessful

, you will see this message and will need to attach a commercial invoice as normal: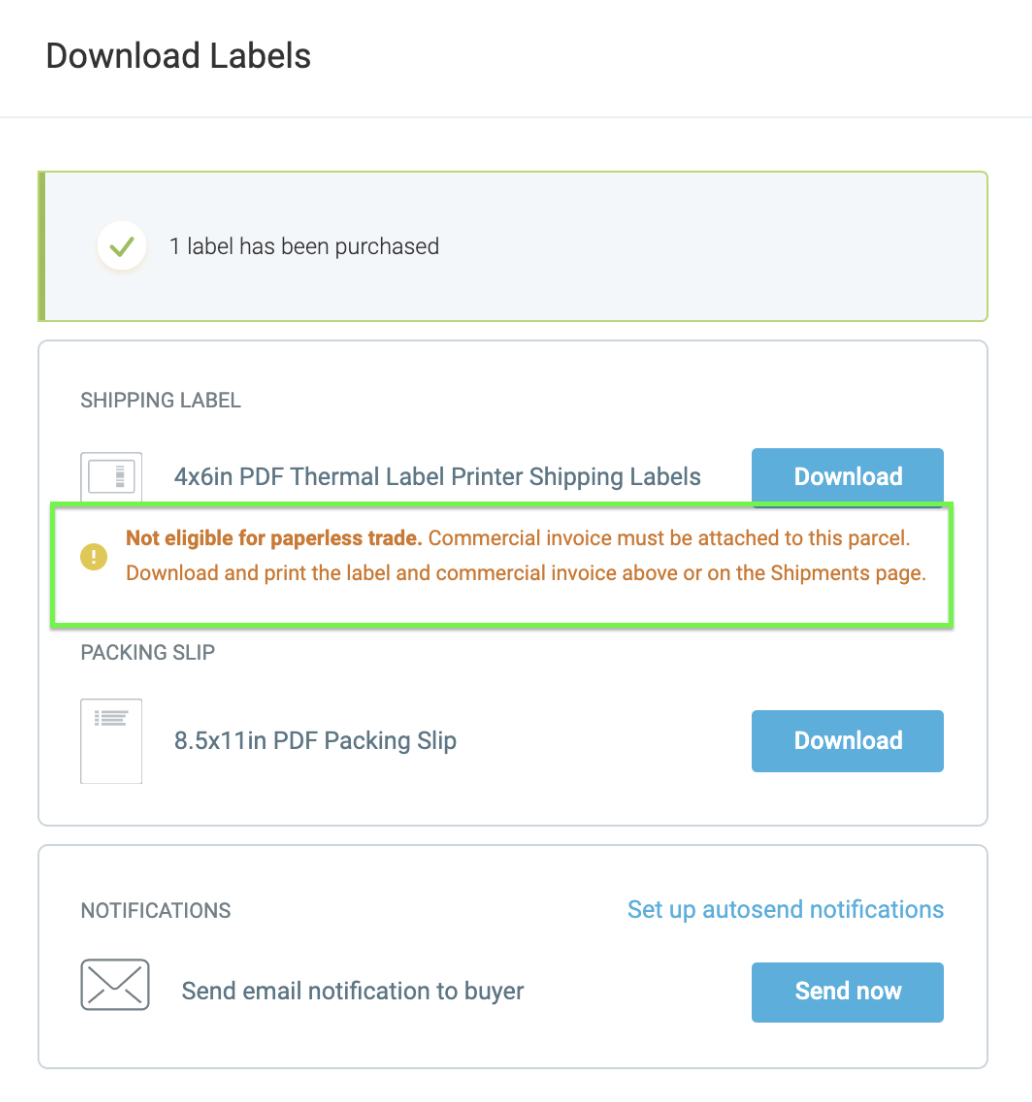 It's important to note:
If you are using a personal UPS account that is set up for PLT, as long as EDI (Electronic Data Interface) prints on the label, you can rest assured that the information has been sent.
 

Warning:

If a shipment is NOT eligible for PLT, it is crucial that the commercial invoice is printed and attached to your package.  Failure to do so can result in returned or discarded packages. 
---
Countries Eligible for PLT
For a list of countries eligible for PLT, please refer to the list appropriate to your selected carrier: