With Shippo's Rates at Checkout, Shippo powers the shipping rates shown in your store's checkout experience. We offer both flat and live rates from carrier rate configurations along with controls that let you customize how shipping rates are displayed to customers, and which carrier services should be used to calculate those rates. By using Shippo's Rates at Checkout, you can rest easy knowing that the shipping estimates shown to shoppers will better match your actual shipping costs.
NOTE: Live rates at checkout are currently only available for Wix users. This is something we hope to add in the future for all Shippo customers. If you are not a Wix user, and you need information about setting up shipping rates, please see this Help Center article.
With Shippo's Rates at Checkout you can:
Access more accurate shipping estimates between what customers see, and the shipping labels you purchase

Leverage any combination of carriers in Shippo's extensive carrier network

Control how shipping options are displayed to shoppers

Note: Shipping Rates at Checkout is only available for Wix customers at this time.
How It Works
Click here for a video overview!
Shippo's Rates at Checkout can be configured as flat rates or live rates depending on your business' needs.
Flat Rate: Shoppers will see a set static shipping cost regardless of the makeup of their cart or the order's shipping destination.
Live Rate: Shoppers will see a dynamic shipping cost that is calculated based on the weight of the items in their cart (pulled from your store settings), your customer's shipping address, and the package dimensions set within Shippo. Shippo will gather rates for the carriers you've selected, return the cheapest carrier rate, and add any rate adjustments to the final rate shown to your shoppers.


After your customer has completed their purchase and your order syncs in Shippo, Shippo will automatically assign the shipping selection made by your customer.

Note: All live shipping rates will be based on a single package template that you set within Shippo. Stay tuned for updates as we introduce even more dynamic control!


Creating and Managing Rates at Checkout
To enable Rates at Checkout, you will need to complete the following steps:

Create shipping options in Shippo

Enable Shippo Rates in your store checkout experience
Creating New Shipping Options in Shippo
To create Shipping Options for your customers checkout experience, head to Settings > Rates at Checkout and complete the setup process. For more details on this process, see our Tips section below.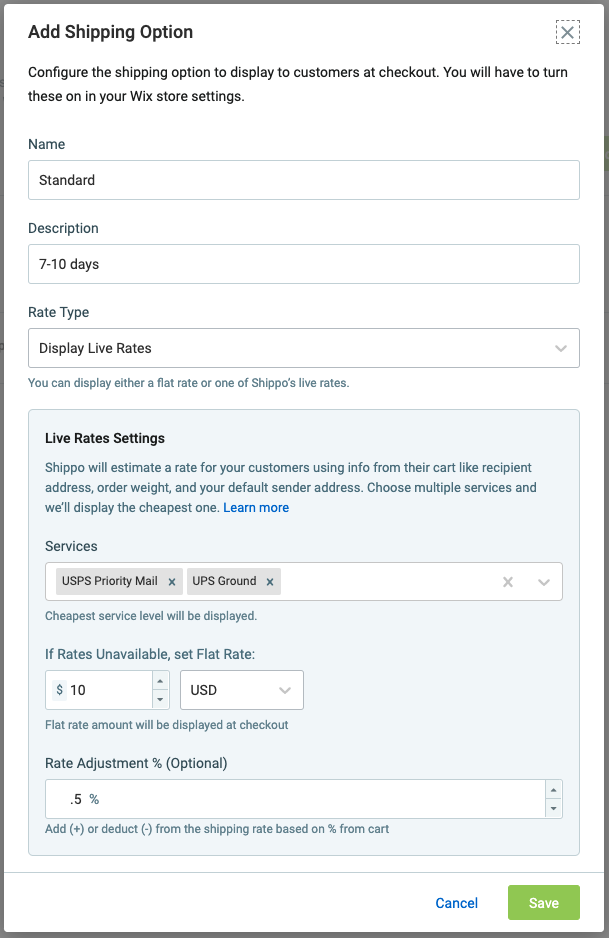 Rates at Checkout User Tips
All enabled Shipping Options will show to shoppers

(stay tuned for future enhancements!)

A default package template must be set to calculate live rates

A fallback rate must be set to ensure no disruption to the checkout experience if a live rate cannot be retrieved

Shipping names and descriptions show to customers at checkout

Shipping Rates at Checkout will work for domestic and international orders!

Of the carrier services selected for a Shipping Option, Shippo will use the cheapest rate to show at checkout along with the assigned shipping name and description

Rate adjustments are based on the shipping rate returned from carriers and may be positive, negative, or partial percentages
Enabling Shippo in Your Connected Store
To complete your Rates at Checkout setup, you will need to have Shippo as a connected app in your store and enable Shippo within your shipping setup.