| | |
| --- | --- |
|   | As of 9/1/23, Shippo has migrated Insurance providers from Shipsurance to XCover. If you bought insurance prior to 9/1/23, follow the instructions below to file a claim with Shipsurance. If you purchased insurance after 9/1/23, follow the instructions for XCover. |
Shipping Insurance Options in Shippo
One out of Ten shipments arrive damaged, over 1.7 million packages are lost nationwide every day, and more and more customers say they're unlikely to repurchase if they had a poor delivery experience. Keep orders safe, and provide a better customer experience by adding shipping insurance to your shipments.
In this guide, learn how to insure your packages with Shippo, guarantee coverage, and discover which items can or cannot be insured in Shippo, and more. 
---
Insuring your Package with XCover
Shippo has partnered with XCover, owned by Cover Genius, allowing you to quickly (and easily) add insurance to your labels while purchasing in Shippo! When you purchase insurance for the first time, you will receive an email and text message asking you to create an XCover account.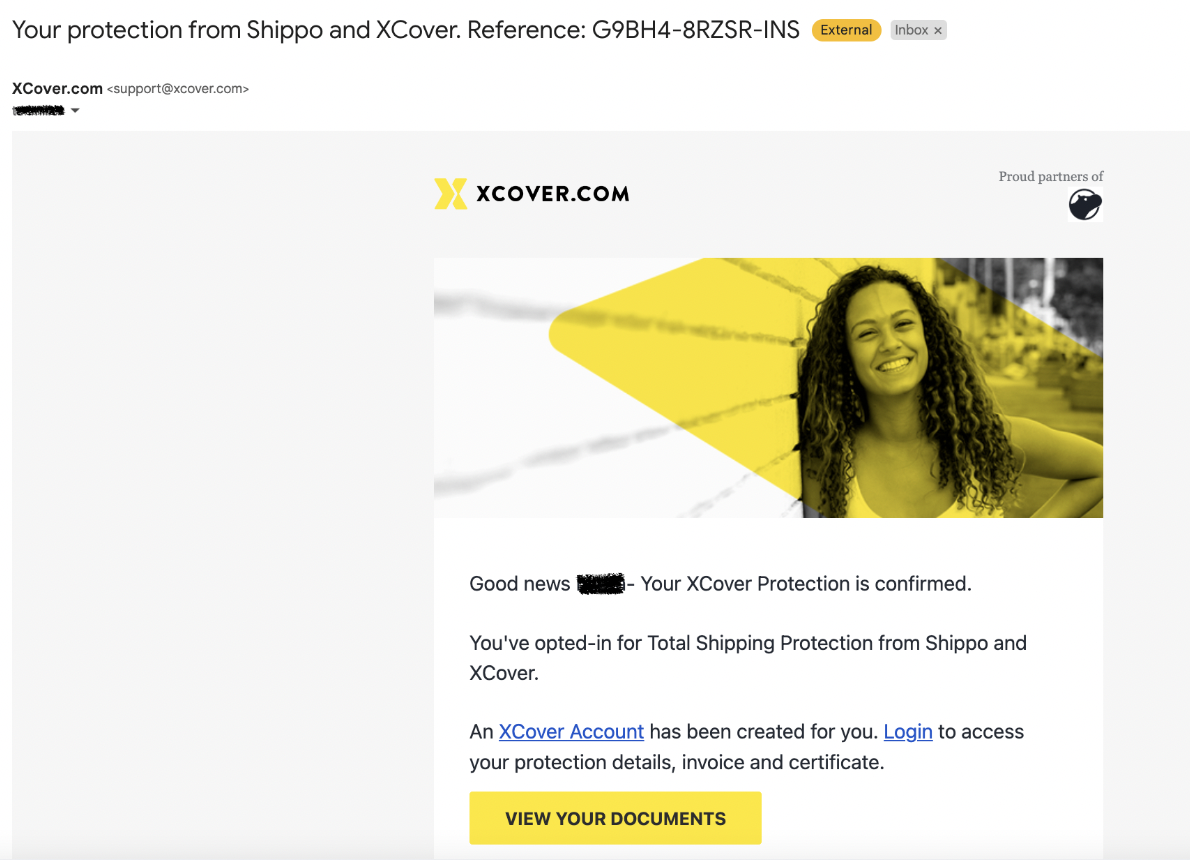 From the XCover portal, you can make a claim or manage your insurance policies. All insured shipments are subject to the XCover Terms and Conditions.
How to add XCover to your package
From the Orders page, click into the Order you would like to insure.

Click Shipment Extras from the sidebar.

Click Add next to Shipment Insurance.

Choose Insurance by XCover .

Then, give the total value of the items inside the package. 

You will then get a quote for insurance on your package. 

Lastly, select the desired Label. 
How much does it cost to insure my package?
For shipments within the same country, the price of insuring your packages is 1.25% of the insured value. So, for example, if a package is insured for a value of $250, insurance would cost $3.13. For cross-border shipments, the price of insuring your packages is 1.50% of the insured value.
---
Can my item be Insured with XCover?
The language around shipping insurance can often be frustrating, misleading, and hard to understand.
Before purchasing your label with XCover , be sure that XCover will insure the item. The full list of exclusions can be found in XCover's Terms and Conditions and will vary by originating country.
Items that require a signature to be insured
Laptops, LCDs and TVs

Parcels containing over $250 in jewelry.

Jewelry over $250 must also have a tracking number. 
Can my item be insured with XCover?
For the most up-to-date coverage information please refer to XCover's Terms & Conditions. 
For shipments originating in the United States view policy information here.  
For shipments originating outside the United States view policy information here. 
As of 10/4/2023, coverage is only available for shipments originating from the United States, Canada, United Kingdom, Germany, France, Spain, Italy, and the Netherlands. Coverage for other countries will be coming soon.
Countries that XCover cannot Insure Packages to
Insurance coverage is limited to countries that do not violate United Nations resolutions or the trade or economic sanctions, laws or regulations of the European Union, United Kingdom or the United States of America.
For the US, shipments to following countries are not allowed to be insured. 
Afghanistan (Taliban)
Algeria
Angola (UNITA)
Burma (Myanmar)
Chechnya, Republic of
Congo, Democratic Republic of (formerly Zaire)
Cuba
Eritrea
Ethiopia
Iran
Iraq
Kyrgyzstan
Lebanon
Liberia
Libya
Macedonia
Nigeria
North Korea
Russia & CIS Countries (Ukraine, Kazakhstan, Belarus, Azerbaijan, Georgia, Armenia, Moldova)
Rwanda
Sierra Leone
Somalia
Sudan
Syria
Tajikistan
Turkmenistan
Uzbekistan
Venezuela
Yemen, Republic of
Uganda
Zimbabwe
For Canada, shipments to following countries are not allowed to be insured. 
Afghanistan
Algeria
Angola
Belarus
Benin
Bosnia & Herzegovina
Botswana
Burkina Faso
Burma
Burundi
Cameroon
Cape Verde
Central African Republic
Chad
Comoros
Congo
Congo, The Democratic Republic Of The
Cote D'ivoire
Cuba
Djibouti
Equatorial Guinea
Eritrea
Eswatini
Ethiopia
Gabon
Gambia
Ghana
Guinea
Guinea-Bissau
Iran
Iraq
Kenya
Lebanon
Lesotho
Liberia
Libyan Arab Jamahiriya
Madagascar
Malawi
Mali
Mauritania
Mauritius
Mayotte
Morocco
Mozambique
Myanmar
Namibia
Nicaragua
Niger
Nigeria
North Korea
Reunion Island
Russia
Rwanda
Sao Tome And Principe
Senegal
Seychelles
Sierra Leone
Somalia
South Sudan
Sudan
Swaziland
Syria
Tanzania, United Republic Of
Togo
Tunisia
Uganda
Ukraine
Venezuela
Western Sahara
Yemen
Zambia
Zimbabwe
---
What to do if XCover cannot insure my item?
In the event that XCover cannot insure your item, carriers may have different requirements for insuring packages. Check with each carrier to determine if your package can be shipped. 
 

 

If XCover cannot insure your item, your best option is to purchase your label directly through a Carrier (USPS, UPS, DHL, etc.)
| | | |
| --- | --- | --- |
| Carrier | Service | Included Coverage |
| DHL Express | Domestic | $100.00 |
| DHL Express | International | $100.00 |
| FedEx | Domestic | $100.00 |
| FedEx | International | $100.00 |
| Purolator | Domestic | $100.00 |
| Purolator | International | $100.00 |
| UPS | Domestic | $100.00 |
| UPS | International | $100.00 |
| USPS | Domestic - Express Mail | $100.00 |
| USPS  | International- Express Mail | $200.00 |
---
Insuring your Package with Shipsurance
As a reminder, Shippo has migrated Insurance providers from Shipsurance to XCover. If you bought insurance prior to 9/1/23, read below to learn more about the former Shipsurance program.
 

Warnings:

1. Your item may not have qualified for insurance or may have required a signature to be insured by Shipsurance. See below to learn if your Item is Insurable through Shipsurance.

2. Proof of acceptance from the was carrier required. This can be shown in two ways: a) Tracking events on the carrier's website or b) a receipt from the day of drop-off showing the carrier's acceptance of the package.

 
We strongly recommend all customers review the Shipsurance Terms of Service here before adding insurance to your shipment.
 

Note:

Adding Shipsurance to any package valued above $500.00 automatically added a Signature Confirmation to your label. Removing the confirmation could have invalidated the insurance coverage.
---
Packaging requirements
For your package to be covered by Shipsurance, you must follow adhere to the following packaging requirements:
Pack your items sufficiently to withstand the everyday rigors of transit. For example, if the item is fragile, pack it with bubble wrap or similar packaging materials to keep the item safe.

Shipping your item in the manufacturer's packaging will void coverage. Pack your items in packaging that does not advertise the contents inside. 

The shipping address must be correct. 

If the item was damaged or lost during transit, the package must be in marked complete/delivered  when the claim is made. The claim may be denied if the item was never sent, is sent back, thrown away, or released to the shipping carrier.  
---
Limitations on using Shipsurance
Chances are, your items can be easily insured from within Shippo. But, to guarantee coverage, your item may demand specific package requirements or require a signature. And, in some cases, your item may not be insurable. 
Be sure that Shipsurance will insure the item. Keep in mind that some items may only be insurable with a signature.

Items that are not insured
Certain electronics with screens 

Documents

Passports

Negotiable papers such as securities or deeds

Tickets

Bills, currency, cash in transit, evidence of debt, money orders, cash on delivery (COD), gift cards, and all coins.

Manuscripts

Specific types of glass

Stained glass

Plate glass

Float glass

Anything deemed to be hazardous per

UPS Hazardous Materials List

Cigarettes, Cigars, or Tobacco Products

Guns and firearms including:

Ghost Guns

3D printed guns

Kits for any gun or firearm

Hemp-derived products and products that contain cannabidiol (CBD)

Vehicles

Some foods

Perishable cargo

Live trees, flowers, plants, or seeds

Live animals

Specific fragile items

Neon items like Neon signs

Stone or ceramic slabs

Items shipped in packaging which describes their contents.



Items that require a signature to be insured
Signature confirmation will be automatically added to orders over $500 in value. This can be manually removed as long as the order does not meet any of the criteria listed below

Computers (and similar electronics listed below - ADULT SIGNATURE CONFIRMATION REQUIRED)

Laptops

tablets

Desktop Computers

iPads

similar electronics

Mobile telephones

Cell Phones

Smart Phones

Similar electronics

Jewelry valued at $1000 or more (ADULT SIGNATURE CONFIRMATION REQUIRED)

necklaces, earrings, watches, rings, bracelets, broaches, etc

Parcels or freight with a value of $10,000 (ADULT SIGNATURE CONFIRMATION REQUIRED)

Countries that we cannot Insure Packages to
Afghanistan

Angola

Bolivia

Burma

Congo

Cuba

Iran

Iraq

Ivory Coast (Cote d'Ivoire)

Liberia

Nigeria

North Korea

Paraguay

Sierra Leone

Somalia, Sudan

Syria

Venezuela

Any location that would be in violation of any U.S. economic or trade sanctions including OFAC Restricted Countries. For shipments to Russia and other Commonwealth of Independent States countries:

includes Armenia, Azerbaijan, Belarus, Georgia, Kazakhstan, Kyrgyzstan, Moldova, Russia, Russian Federation, Tajikistan, Turkmenistan, Ukraine, and Uzbekistan

Coverage ceases upon touchdown of the aircraft at the airport of destination or upon discharge from the overseas vessel at the destination discharge port.



---
What to do if Shipsurance cannot insure my item?
Shipsurance has more requirements than a carrier, and unfortunately, any company shipping with Shipsurance will have similar limitations you see listed above. Luckily, carriers have different requirements for insuring packages. 
 

 

If Shipsurance cannot insure your item, your best option is to purchase your label directly through a Carrier (USPS, UPS, DHL, etc.)
| | | |
| --- | --- | --- |
| Carrier | Service | Included Coverage |
| DHL Express | Domestic | $100.00 |
| DHL Express | International | $100.00 |
| FedEx | Domestic | $100.00 |
| FedEx | International | $100.00 |
| Purolator | Domestic | $100.00 |
| Purolator | International | $100.00 |
| UPS | Domestic | $100.00 |
| UPS | International | $100.00 |
| USPS | Domestic - Express Mail | $100.00 |
| USPS  | International- Express Mail | $200.00 |