The Items section on your Shippo Orders Page shows the items associated with each order. Order items will be included on the packing slips you download in Shippo.
Overview
Orders imported from your store will include the order items automatically
CSV-imported orders will have order items if included in the original CSV file
Manual orders created in Shippo using the Create Label button can have the order items added when you create your label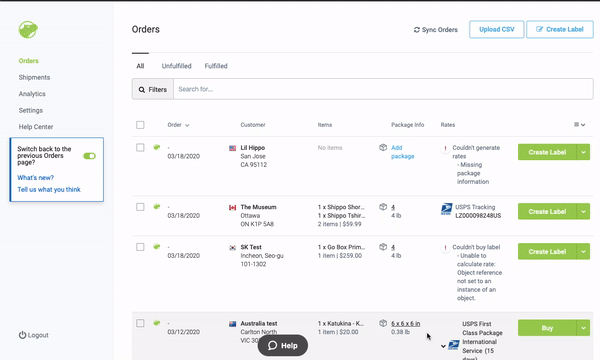 How to Add and Delete Order Items
1. Open Your Order
Click Create Label to the right of any order on your Shippo Orders Page
Scroll to the Items section of the Order information
2. Add Items
Click Add
Enter the Description, Quantity, Weight, Value, and Country of Origin (This information will also be used for Customs Declarations for international shipments)
SKU Code is optional
Click Add
Repeat for additional order items
3. Remove Items
Click Edit next to the order item
Click Delete Item
Confirm by clicking Delete Item
NOTE: Items imported from e-commerce stores will not be able to be removed.