Weebly provides Integrated Shipping for all Weebly Business and Weebly Business Pro Plan customers. When Integrating shipping in Weebly with Shippo, you can create your shipping labels without ever leaving your store!
In this article, learn how to setup Integrated Shipping in Weebly with Shippo!
---
Set up the Weebly/Shippo Connection
On your Weebly Orders Page, click Create Shipping Label at the top of the screen.
Click Next.
Enter your Full Name, email address, and create a password for Shippo.
Lastly, click Sign up: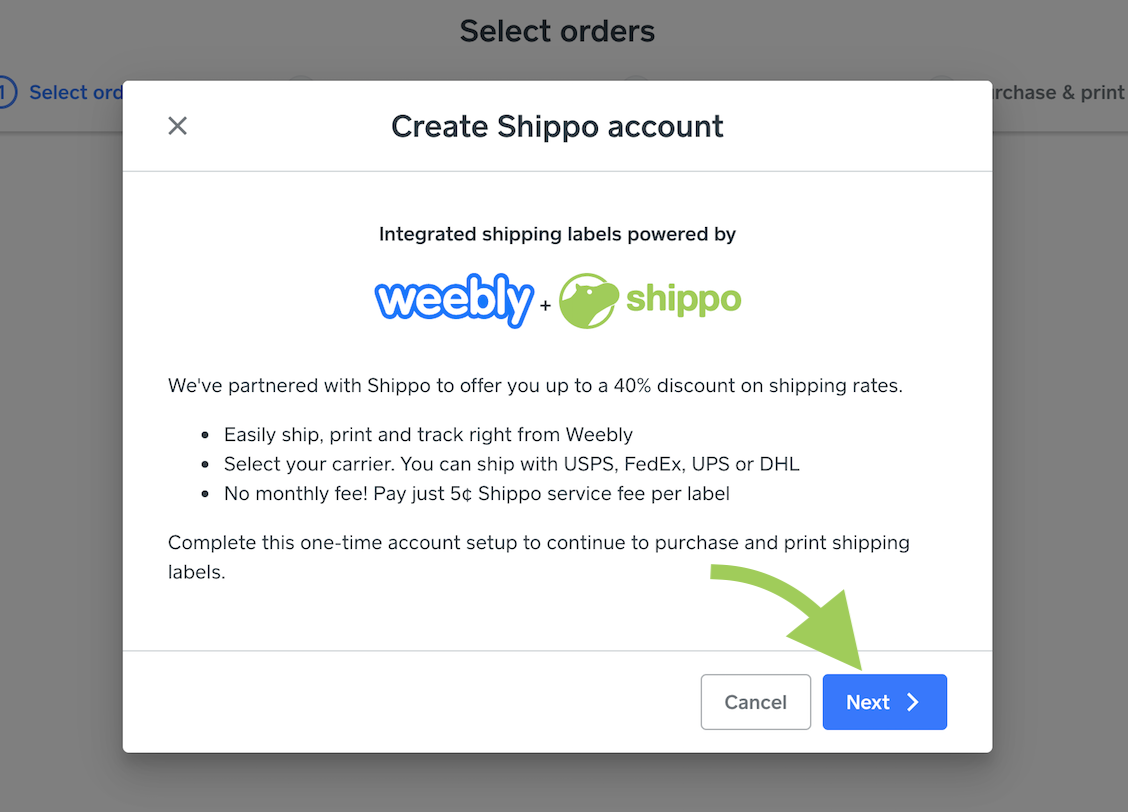 ---
Purchase a label using Integrated Shipping
Click on your Pending order(s) on your Weebly Orders Page.
Click Create Shipping Label.
Select the Carrier, enter Package Dimensions and Weight, Select the Rate, and click Purchase.
Click Print Label on the purchase confirmation screen: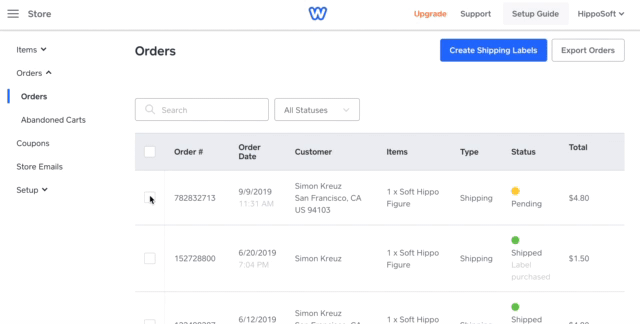 ---
My online store is on the Weebly Pro Plan. How can I use Shippo to ship?
Weebly Pro Plans do not include Integrated Shipping powered by Shippo. But, you can still purchase labels in Shippo's Web App! It's a simple two-step process to get your orders imported to Shippo:
Step 1: Export your Weebly orders from the Weebly Orders Page
Click Export Orders.
Confirm the Date Range and select CSV for file type.
Click Export.
The download link will be emailed to your Weebly account email address: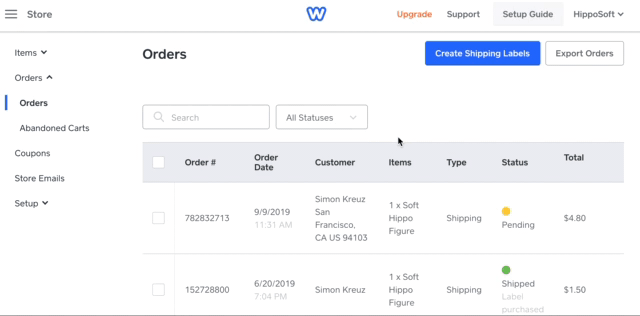 Step 2: Import the CSV file retrieved from Weebly into your Shippo account
Step-by-step import instructions are detailed here: Uploading Orders via CSV
---
FAQs
I'm a Weebly Pro Plan customer and imported my orders to Shippo using CSV. How do I create my labels?
Shipping labels are created right in the Shippo Web App! Begin on the Shippo Orders Page, click Create Label next to your order, enter the package details, select your rate, and Buy. The step-by-step is outlined here: Create a Shipping Label
Note:

Don't forget to go back and update your order in Weebly by clicking Mark as Shipped
I connected to Shippo using the original App from the Weebly Marketplace. What do I do now?
Weebly partnered with Shippo to develop a streamlined label solution right in the Weebly platform! We are very proud of our first iteration of the Shippo App in the Weebly Marketplace (Released September 2015) and are excited to continue our Weebly partnership through Integrated Shipping.
The release of this new technology naturally leads to the old app going away, so you won't see orders importing to Shippo or syncing back to Weebly like you used to.
We recommend using CSV upload as mentioned above if upgrading to Weebly Business or Business Pro isn't the best fit for your store.
How do I set up shipping rates in my shopping cart?
All setting for shipping options available for your customers at checkout are managed in Weebly:
How can I request a refund for a shipping label in Weebly?
Click Orders along the left of your Weebly Store page.
Click on the Order for the shipping label needing a refund.
Click Edit to the right of Shipping Labels section.
Click Refund Label at the top of the page.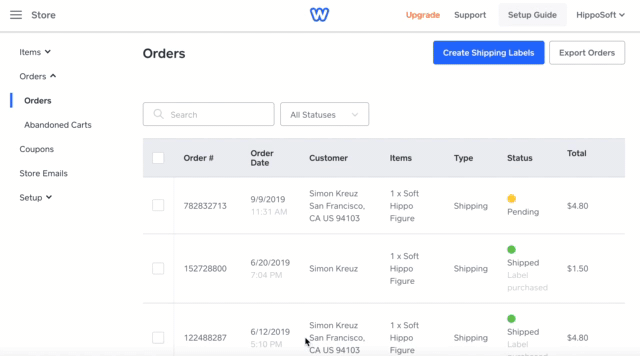 How can I get an end-of-day shipping "Manifest" or "SCAN Form"?
Customers on any Weebly plan can generate an end-of-day manifest on Shippo's Shipments Page. See this page for details: Manifests and SCAN Forms.
How can I schedule a package pickup?
Customers on any Weebly plan can schedule USPS or DHL Express package pickups on Shippo's Shipments Page. See this page for details: Schedule Package Pickups in Shippo.