Note: If you are experiencing issues syncing orders between your WooCommerce store and Shippo, please first disable any new plugins you may have enabled. We have seen several cases where an improperly-configured plugin caused sync issues with Shippo. Unfortunately there is nothing we can do in these cases.
Shippo provides an out-of-the-box integration with WooCommerce. When your WooCoomerce store is connected to Shippo, your order details will be imported to Shippo. When you create a label in Shippo, we update the fulfillment status in WooCommerce and push the tracking number to WooCommerce. When you change an address in WooCommerce, the change will sync to Shippo. If you change the order status in WooCommerce, we will update that in Shippo as well.
WooCommerce does not have a specific field for tracking numbers, Shippo places it in the "Order Notes" section of each order.
How to Connect
There are only a couple of steps to connect Shippo with your WooCommerce store: 
1. From the "Connect" page in Shippo, click "Edit" next to WooCoomerce
2. Enter your store name and URL, then click "Connect with WooCommerce"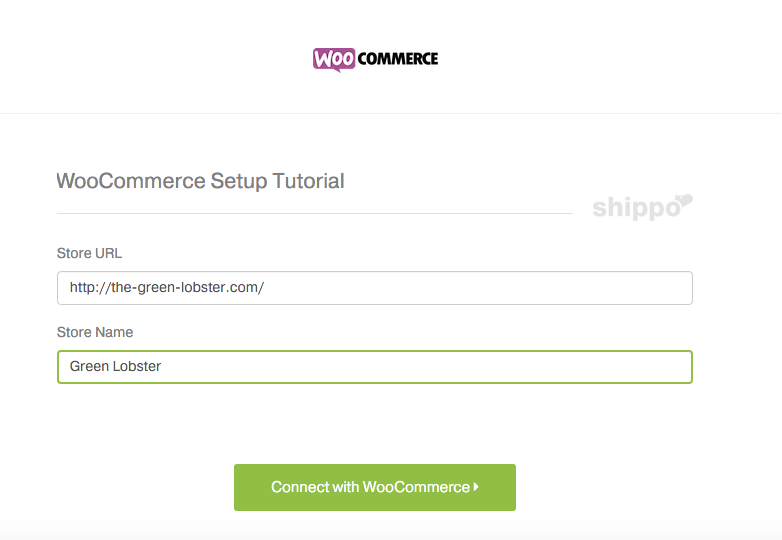 3. You'll be taken to a page within WooCommerce where you'll need to approve the permissions that Shippo needs to operate (i.e. import your orders, send back tracking numbers, etc.). You must click "Approve".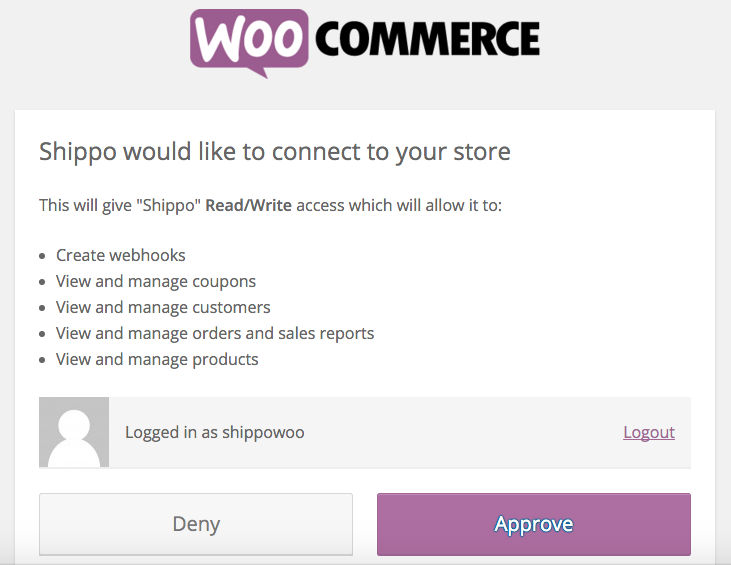 4. Once you approve the connection, you'll be taken back to your Orders page in Shippo, where you'll now see your WooCommerce orders!
Troubleshooting Checklist
1. Verify that the store URL is the base URL of the store. It should not have added paths like /admin, be misspelled, etc.
2. Latest version of the WooCommerce plugin is required. It must be version 2.6 or higher to work with Shippo.
3. Verify your credentials. Occasionally wrong credentials will be accepted by the setup screen, but the order sync will not work. No error will be shown.
3a. Check that the role of the account used to connect with Shippo has the role "Administrator"
3b. Check that the permissions for the account used to connect with Shippo have the permission "Read/Write"
4. If you are getting 404 or 403 errors. These errors typically mean there is a problem with permissions or routing. If you're getting 404 errors, please check your .htaccess file to make sure you can access your WooCommerce installation at the URL you provided to Shippo. If you're getting 403 errors, please check the permissions of the files on your server to make sure they can be accessed via the web.
5. Enable REST API in your WooCommerce plugin. Within your Wordpress admin, go to the WooCommerce section, click Settings, go to the API tab and make sure "Enable the REST API" is checked. If you don't have an API tab, you need to upgrade your WooCommerce plugin - Shippo works with version 2.6 and higher.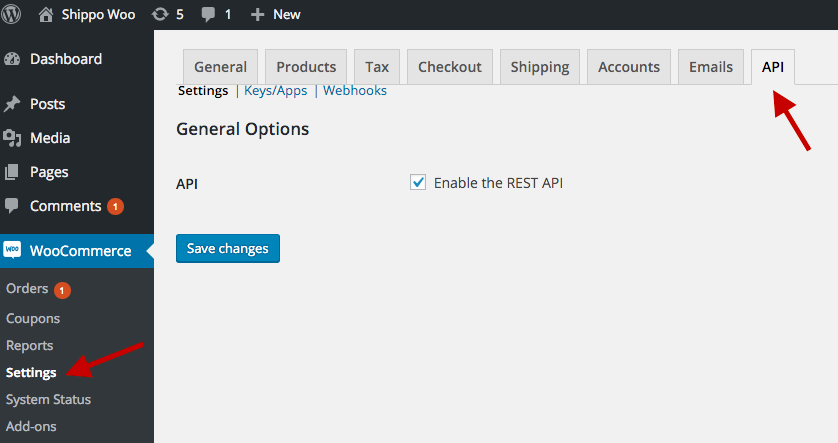 6. Check your REST API settings by visiting the version end-point by adding /wp-json/wc/v1 to your store URL (this path depends on your store configuration). In the page header of your response, you need to check HTTP response and Content-Type. You should receive a HTTP response  200 and Content-Type application/json.  
Below is an example using "curl" to get the page header of the version end-point.
"$> curl -I  http://mystore/wp-json/wc/v1
HTTP/1.1 200 OK
Date: Tue, 04 Apr 2017 16:52:17 GMT
Server: Apache
..
..
Allow: GET
Vary: Accept-Encoding
Content-Type: application/json; charset=UTF-8"
7. Verify your "permalinks" in Wordpress are set up correctly. Go to your Wordpress settings, click Permalinks, and make sure it's set to "Post Name." You can only use Shippo if your permalinks are set to "Post Name."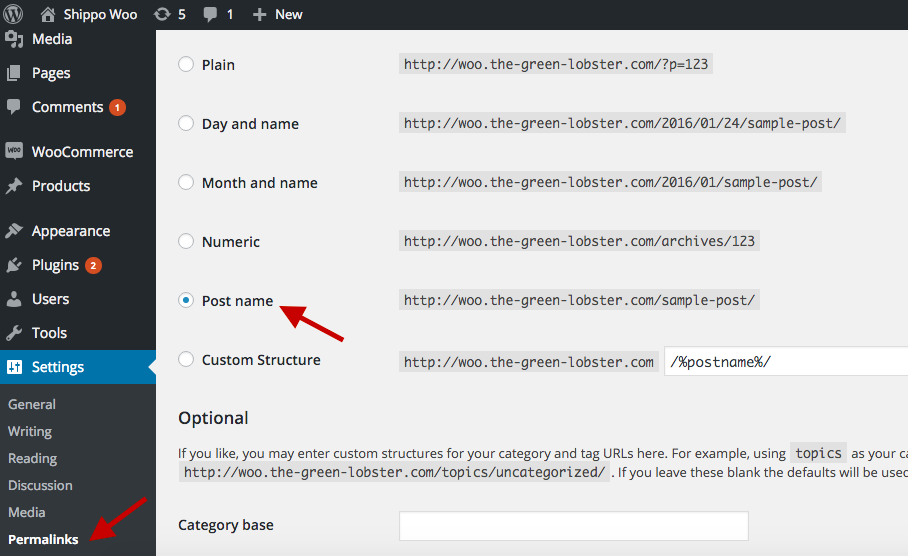 If you are still having trouble connecting your WooCommerce store, please contact support.