We've recently changed how we handle pickups
Beginning October 2018 we are rolling out improved support for pickups in the web interface. This will allow you to schedule your USPS pickups without leaving Shippo, and will be accessible through your Shipments tab in your Shippo dashboard. Details about this new functionality can be found at the bottom of the article below.
~~~~~~~~~~~~~~~~~~~~~~~~~~~~~~~~~~~~~~~~~~~~~~~~~~~~~~~~~~~~~
Currently, once your label is printed and your package is ready to be shipped you will need to schedule a pickup/collection through the carrier's website. Please follow the instructions as detailed by the specific carrier.
If you ship a high volume, or ship frequently, with most carriers you can schedule the pick-up once (e.g. every Tuesday at noon) and it will repeat itself.
If you prefer, you can also drop your package at the Post Office, or one of the carrier's locations. Just make sure the zip code on your package is the same as, or close to, the zip code of the carrier location where you drop your package.  
If you're using our negotiated USPS or DHL Express rates, we recommend dropping your package in a bin rather than taking it to the counter as not all carrier employees will be familiar with Shippo and may be confused about your package's shipping label origin.
New pickups functionality - October, 2018 
When the new USPS scheduling functionality is live in your account, and a USPS pickup is requested in Shippo, our system will pre-fill all customer information on the USPS pickup form for you. To create a USPS Pickup in Shippo you will need to ensure you have:
at least one USPS transaction with the shipment date of today/tomorrow
a valid sender/company address in your Addresses Tab in Shippo
a valid phone number
We will also pass along all necessary information such as the number of packages to be picked up and their total weight to USPS.
We will not yet support the ability to:
Add a unique pickup address, as the address used will be defaulted to your Sender address in Shippo. 
Select certain shipments for pickup, as all shipments with shipping dates of that day/the next day will be included in the pickup queue.
Edit/Cancel a scheduled pickup
Select a date/time for pickup. This is determined by USPS and will be listed once you receive confirmation that the pickup request was sent successfully.
To schedule a pick up you will need to:
Select USPS from the Pickups drop-down on the Shipments page.
Click "Schedule Pickup" on the Pickups page.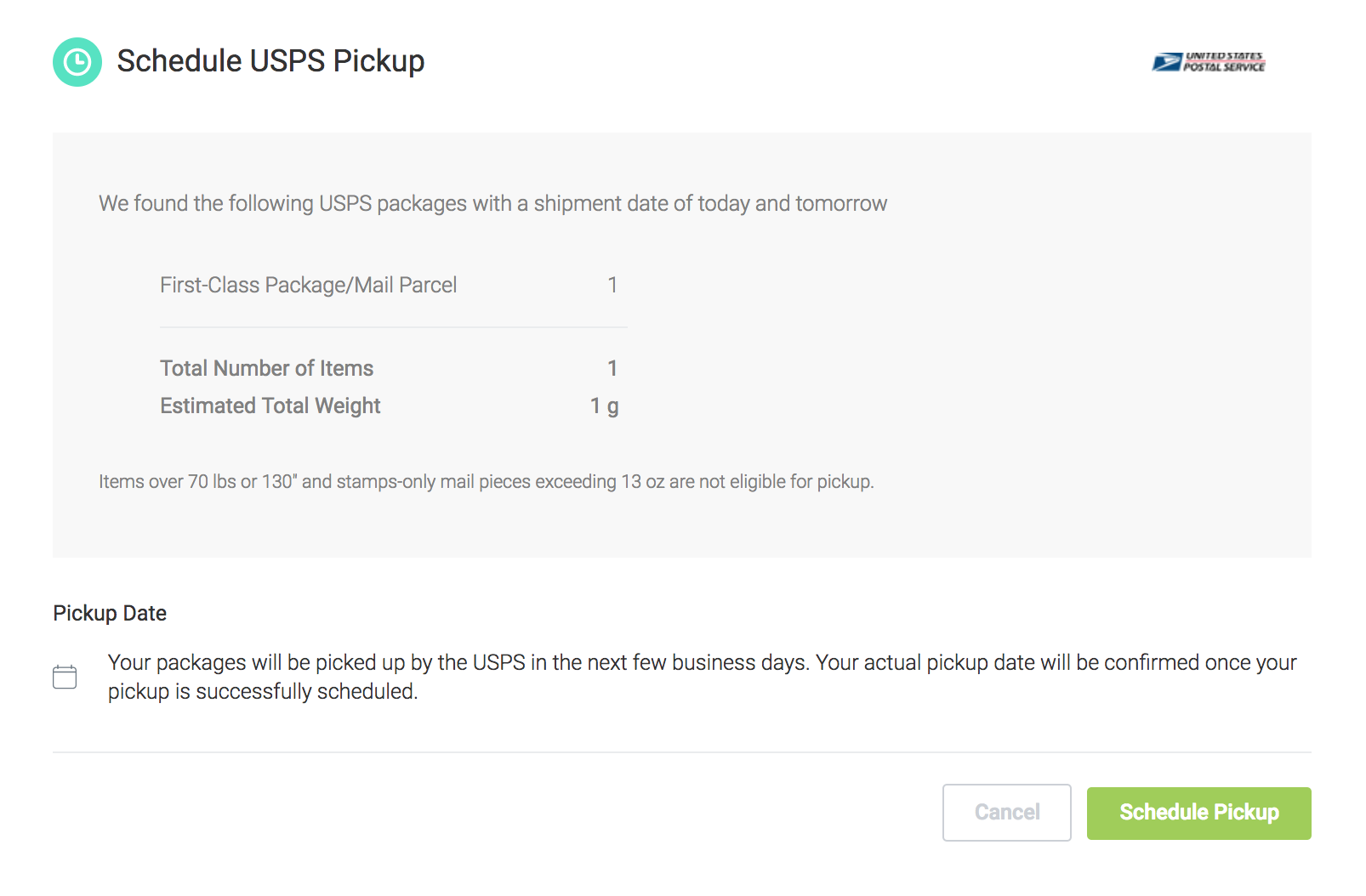 3. You'll then be taken back to the Shipments page and will receive a confirmation notification at the top of the page with your confirmation number and the date of your pickup.

We recommend you save the confirmation number should any issues arise, or you need to edit/cancel your pickup. The confirmation number will not be made available again once you close out of this window.
To make changes to an already scheduled pickup you will need to visit the USPS Scheduling Website, click on "Make changes to a scheduled pickup" on the top right of the page, enter your confirmation number and phone number, and click the blue "Edit pickup" button.
We also plan on adding pickup support with additional carriers in the future, so watch this space!