Connecting your UPS account to Shippo enables the ability to see your discounted UPS rates and purchase UPS labels. In this article, we'll cover the several ways you can connect your UPS account, as well as provide some helpful tips during connection.
There are two ways to connect:
Quick Registration

Invoice details are not required
Retail Rates will be shown — UPS will not display your discounts in Shippo
UPS will bill you using your discounts, not retail rates
Shippo will only bill for label fees or plan fees (depending on your Shippo plan) and optional insurance, if purchased



You must enter your invoice details to authorize UPS to share your discounted rates in Shippo
You must use your most recent invoice dated in the past three weeks
Skipping the invoice step when registering will not bring your discounts into Shippo
UPS will bill you using your discounts
Shippo will only bill for label fees or plan fees (depending on your Shippo plan) and optional insurance, if purchased
Note: Shippo recommends always using Full Registration
Connect UPS to Shippo
1. Navigate to the Carriers Page in Shippo by clicking on Settings and then Carriers in the left navigation panel.
2. Click on the Add carrier account button at the top of the page.

3. Select UPS from the list. Click Connect my UPS account.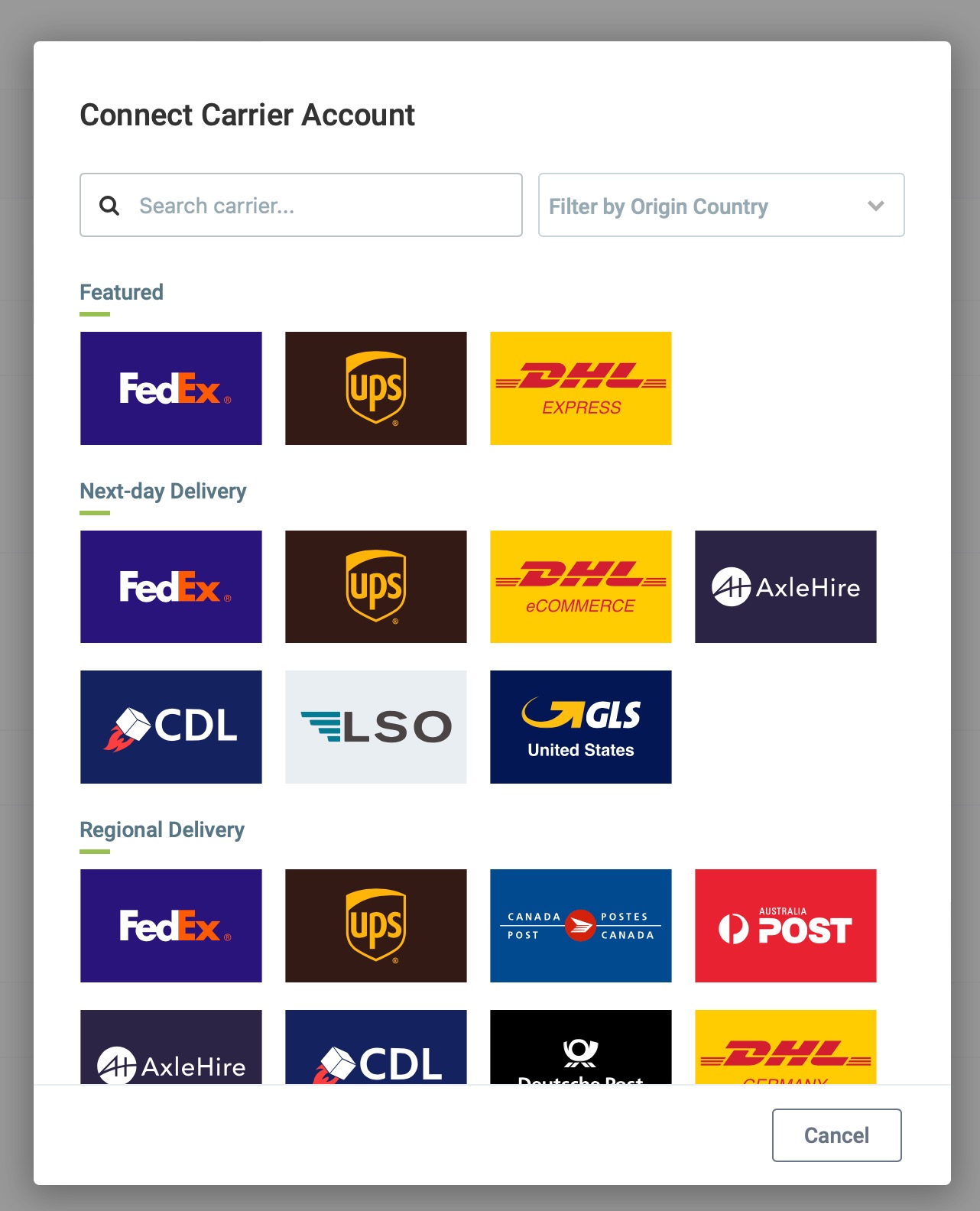 4. Add your contact information.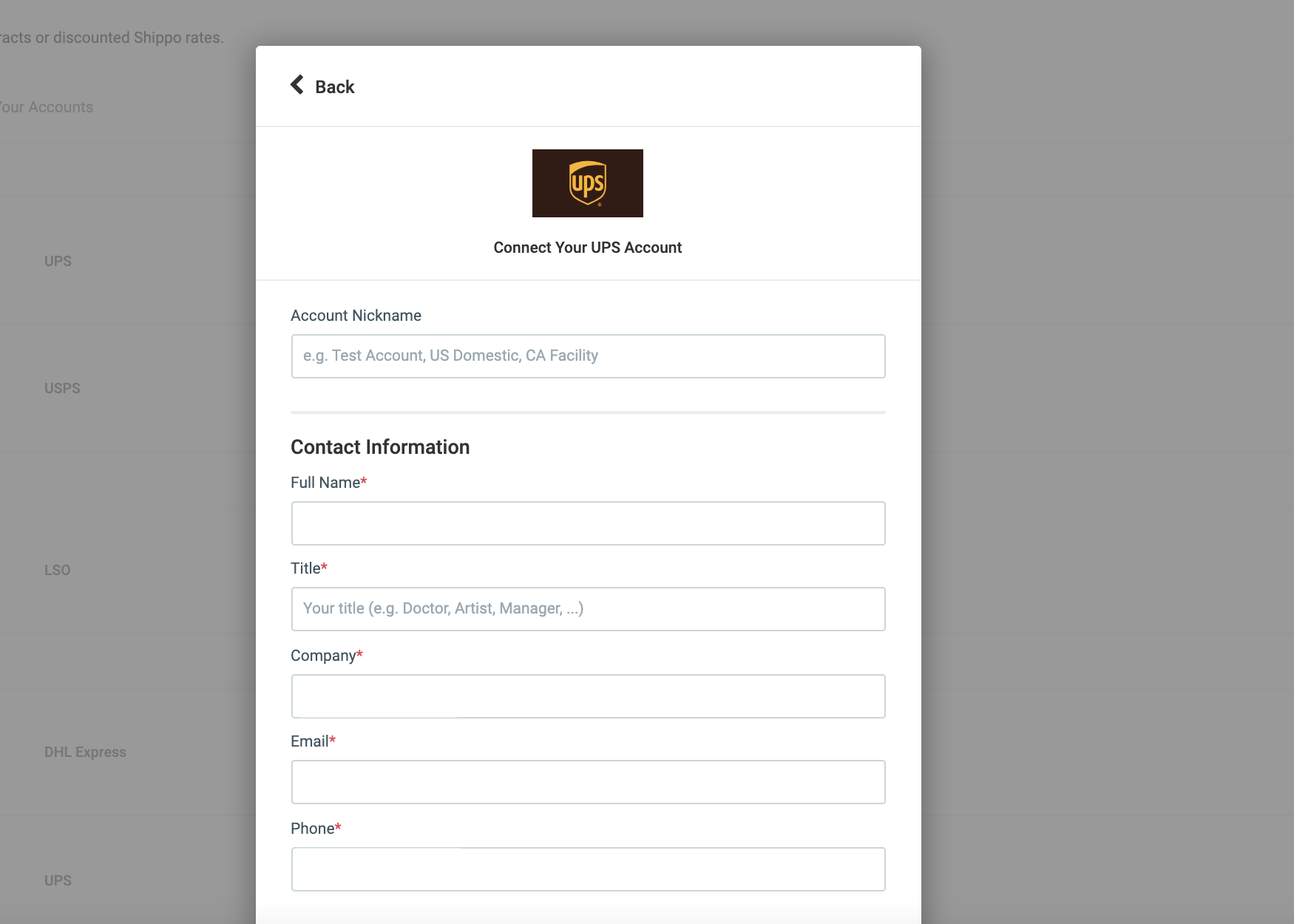 5. Add your billing and UPS information.
If you do not have a Company Name, enter your full name
Your Shippo account address will be pre-filled here. BUT, if your UPS account address is different, you must update the address on this page to match exactly
UPS account numbers are six characters (numbers and letters)
Use only the first five digits of the postal code
Account Name is just for your reference in Shippo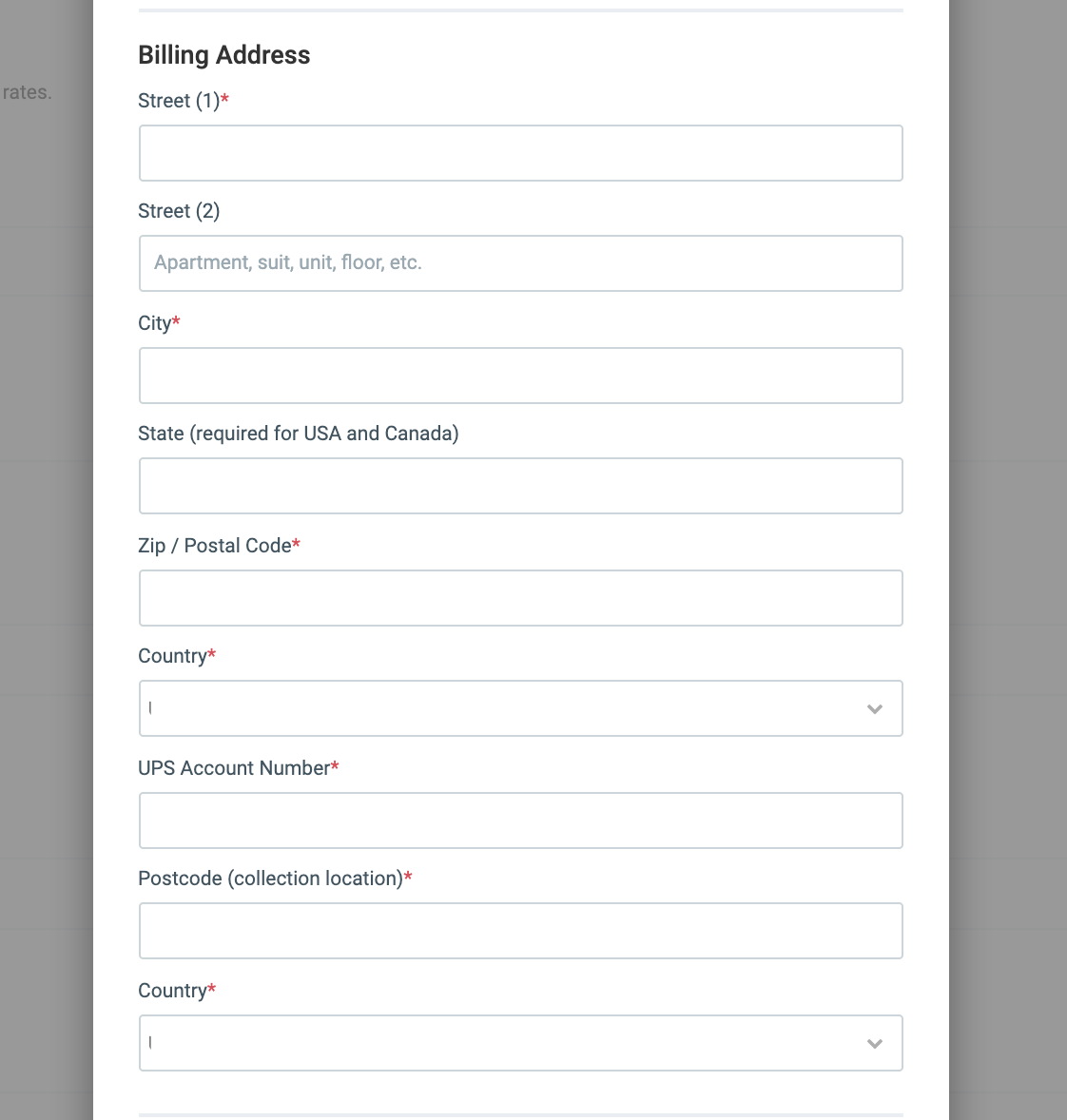 7. Enter your most recent UPS invoice to authenticate your account
This is required to display your discounted UPS rates
The invoice should be dated within the past three weeks
Do not skip this step if you want to see your discounted UPS rates in Shippo
Control ID is required if printed on your UPS Invoice. Download your UPS invoice from the past 45 days, and the Control ID will be located in the top right corner. It is not listed on ups.com, only on your invoice.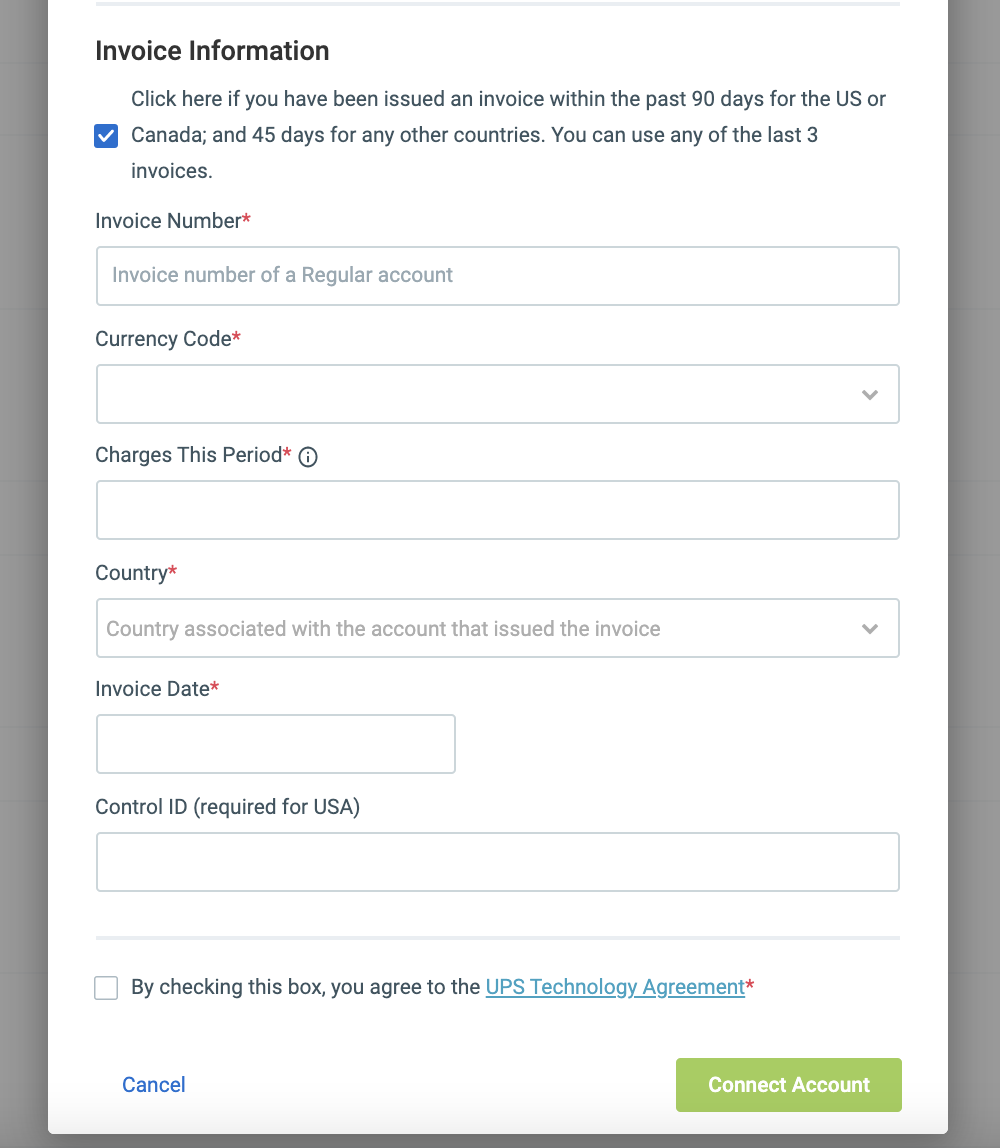 8. Click Connect Account
UPS is now in Test Mode on the Carriers Page
Switch to live mode by clicking Edit, uncheck Activate test mode, and Save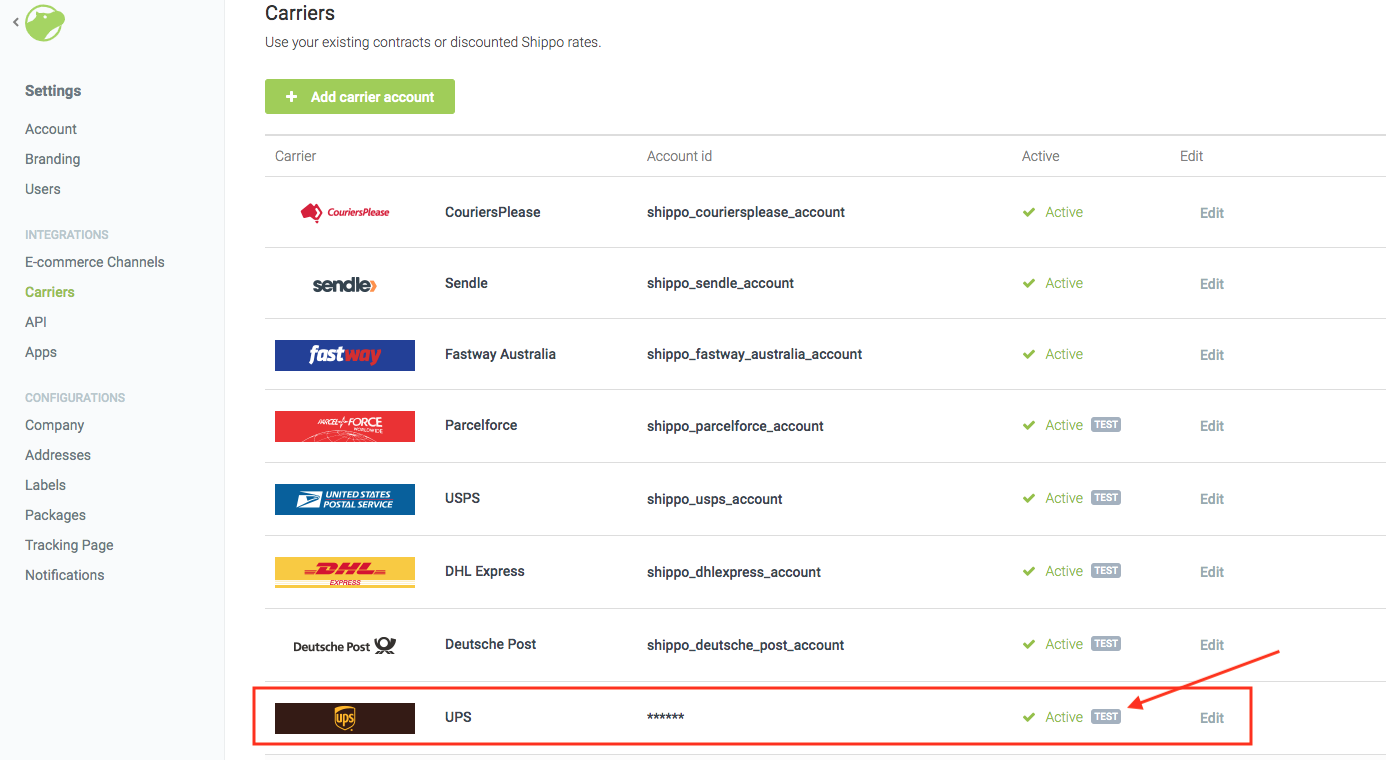 Note: You'll need to establish a UPS Mail Innovations account as it is not a service that is available via a UPS ground account.
Once established, your UPS rep will link the two together in the background so can use that account through Shippo.
You will not receive confirmation or notification and instead will be redirected to the Shippo carriers page. We suggest creating a couple of test labels using the "irregular (Mail Innovations)" template to confirm the connection is working.
Restricted Items
Vaping Products
Effective April 5, 2021, UPS will no longer transport Vaping Products in the U.S. network (domestic shipments, import, and export). "Vaping Product" means any product intended for human consumption by inhalation that relies on vaporization or aerosolization, including but not limited to e-liquid, electronic cigarettes, electronic cigars, electronic cigarillos, electronic pipes, electronic vaping product delivery pens, hookah pens, and any other similar devices that rely on vaporization or aerosolization.
Shipping Vaping Products through UPS may result in a $150 fee per package, as well as termination of service. You can find more information here www.ups.com/tobacco