You can create manifests for USPS, Canada Post, Purolator, Australia Post, Newgistics and DHL eCommerce in Shippo. Just click the "Create Manifest" button in the top right corner of the Shipments page.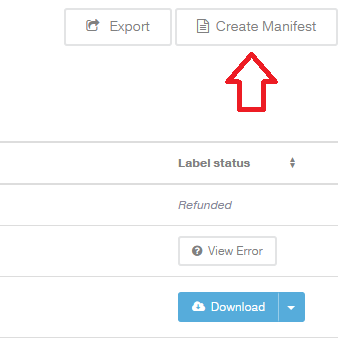 Manifests are created based on the sender address zip code indicated on the page. If you change your sender address throughout the day, please make sure to change the sender address on the manifest page, or you may not see all your labels. 

Note: If you have more than 250 labels, the label count we show may not be accurate, but the SCAN forms themselves should have the correct number of labels.
USPS - You can create SCAN forms through Shippo. For more information on SCAN forms, please refer to our dedicated article on SCAN forms.
Canada Post - Only contract customers can create manifests (if you do not have a contract ID that you can add to Shippo, you will get an error when trying to create a manifest). Contract customers that ship more than 50 shipments a day will need to create manifests to transmit the shipments for billing for a given day. Contract customers that ship less than 50 daily can usually skip the manifest requirement, but are encouraged to verify with Canada Post. If a contract customer doesn't close out a shipment day by creating a manifest, Canada Post may bill for & transmit the shipments on customer's behalf.
Australia Post - All Australia Post customers are required to manifest their daily shipments, no matter how many, in order to avoid a fine. 
Newgistics - When a manifest request for Newgistics transactions is created, Shippo sends a "Client Manifest Information" (CMI) file to Newgistics. This is all done electronically - unlike other Manifest services (such as the USPS), Newgistics does not return a physical document for the labels to be scanned. Users who provide an ACCURATE manifest to Newgistics receive fewer package exceptions because the manifest provides a reference document for package level information. Manifests must be posted by 11 pm PST the day before a shipment is picked up for processing.
DHL eCommerce - End of day manifests are required by DHL eCommerce. The electronic data will be transmitted to DHL through Shippo, and you will need to print 2 copies of the Driver's Summary Manifest (DSM) that is created. The DSM is a printed document that summarizes all shipments being given to DHL eCommerce for that day, grouped by product. You will need to provide these copies to your DHL driver at pick-up/drop-off. 
UPS & FedEx - When you create a UPS or FedEx label in Shippo, there is actually no need to print an End of Day report (as you would in UPS Worldship, for example). This is because all the information in that End of Day report is automatically sent to UPS/FedEx by Shippo each time you create a label with us. If your driver asks you for an End of Day report at pickup, just let them know that the necessary information was already electronically sent to the carrier through your third-party label printing service.